Looking at fabric, fun
Dreaming up what to do with fabric, fun
Cutting up fabric, also fun
Backache from cutting up fabric, not so fun!
But I muddle on determined to ignore the pain and continue on with my busy life.
First on my WIP list:
I am participating in the
Sliced Coins Quilt Along
hosted by Elizabeth D. of
Don't Call Me Betsy
. I decided to go outside of my creative and rather comfortable box and use solids in order make a decorative quilt for the end of my bed. I am using Kona Champagne, Basil, Curry, Honey and Butterscotch. Having a Kona card has been such a big help as I was able to sit on my bed and match Kona colors to the colors around my room. I look forward to the outcome.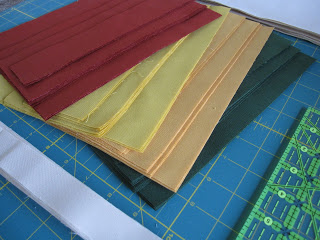 Various Kona Solids for Sliced Coins Quilt Along
Second on my WIP List:
I also started cutting into the Sunkissed by Sweetwater fabric that I received last week to make the first block in the
Block-a-pallooza
. I wish the directions could be a little more clear on what fabrics we should or could use. I ordered the entire Fat Eighth as recommended and don't know if I want to use exactly the same combinations that the block host designers illustrate in the directions. I guess I'll just have to wait and see.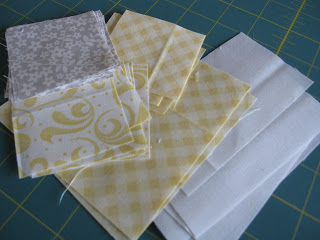 Sunkissed fabric for Block #1
Third on my WIP list:
Last week my quilt using the That Girl Quilt Along came back from the long arm quilter. I am still blown away with what a great job she did with the quilting. I shared with you all before that I had such a tough time myself when I tried to quilt it so sending it out seemed the right choice, and boy was I right.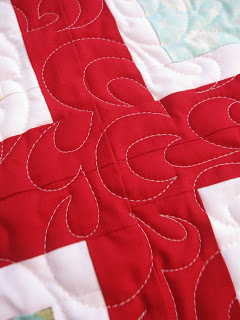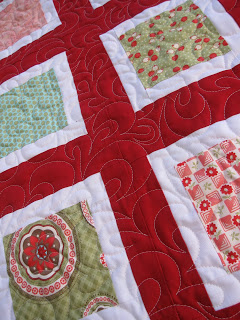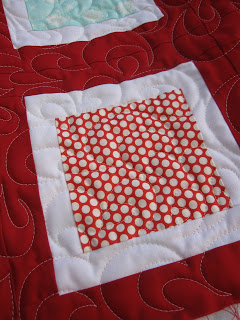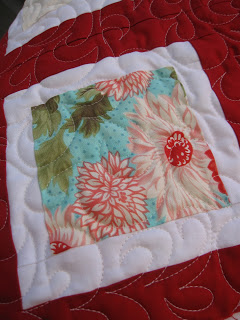 I was right, don't you think? I just love how Maria from
Nena's Quilt Shack
did her magic on my quilt. I'm working on the binding at night and should have that done within the next few days.
My remaining WIP: school!
I'm back in school this week working on my Teaching Credential. TB test, Fingerprint Scan, sign up for the CBEST test are just a few of the tasks I need to complete this week. I was warned that the first class of the teaching credential was the paper-pushing class and they weren't kidding. My other class is ECON 300 - Econ for non-majors and as usual I was the oldest person in the classroom of 100. In the introduction class yesterday the teacher kept talking about some kind of disgusting frozen pizza (sorry - admitted food snob here) to illustrate the labor supply, so I substituted that example with a quilt. Made me smile and worked very well.
Go check out Lee from
Freshly Pieced
to see what other creative people are working on this week!