If you were looking for me this past week, here is where I was: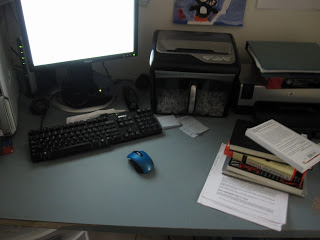 No cooking, no sewing, no gardening...just research and writing. I'm almost tapped out...but I am getting super excited about finishing to the point where I am thinking of it all the time now. After I drop the younger boy off to school today I'll be back at the computer for about six hours finishing up my paper. It's due tomorrow night and I plan on taking my boys with me to drop it off and then take the three of us out to dinner to celebrate. The lucky husband is taking a well deserved day trip down to San Diego to watch the Charger-49er game.
I have been sewing a little bit to relive the stress. Did get my MIL quilt all pieced and actually cut out the backing and binding strips last night.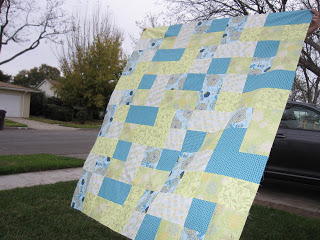 MIL Quilt - not yet named







Because I have no time to take all of these down and take individual shots, I thought I would give you a peek into my closet and what I see every morning.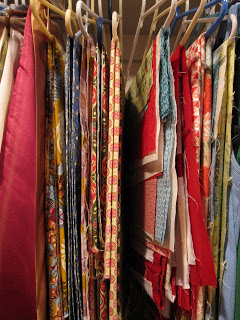 WIP hanging in the closet

Yea, hanging in the closet. Where else are they going to go? :)
Friday will see me attacking my WIP/Christmas list:
MIL Quilt - baste, quilt and bind
That Girl Quilt Along - baste, quilt and bind
Voile Scarf for niece
Two book bags for other nieces - Heather Baily Smart Girl Bag Pattern - so cute!
Possibly some pillowcases
Purse for me out of AMH Innocent Crush Fabric
Month 4, 5 & 6 12 Days of Christmas FQS BOM (I'm a little behind)
Don't forget to check out Lee at
Freshly Pieced
to see what other very talented people are up to. I love checking them out and adding new blogs to my Google reader when someone new appears on the list.
Off to my second to the last day of being an undergrad. YIPPEE!
(ok, I'm nuts)