Happy Tuesday!
Today's post is all about the evolution of the Triton Quilt I made for my son who is now a Freshman at University of California at San Diego (UCSD).
Beginning Idea: Saturday, April 5th ~ Triton Day/Preview Day at UCSD. On drive to campus my son asked if I would make him a quilt and the design process began.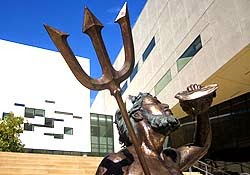 As we walked around campus, I found my inspiration.
Process:
I used the
Pictures to Pixels
class by Caro Sherridan on Craftsy.com. Although time consuming, the instructions were very clear. I highly recommend this class if you wish to make a pixelated quilt.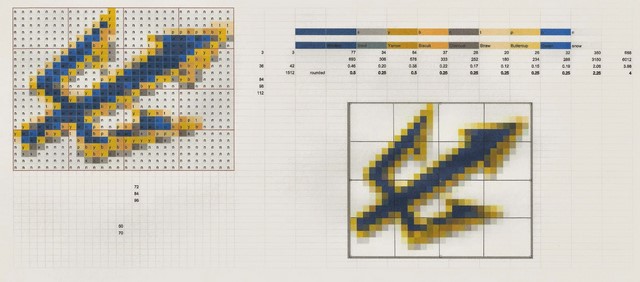 Once I finished finding all of the various Kona Color fabrics I needed, I began cutting on 9/3/14.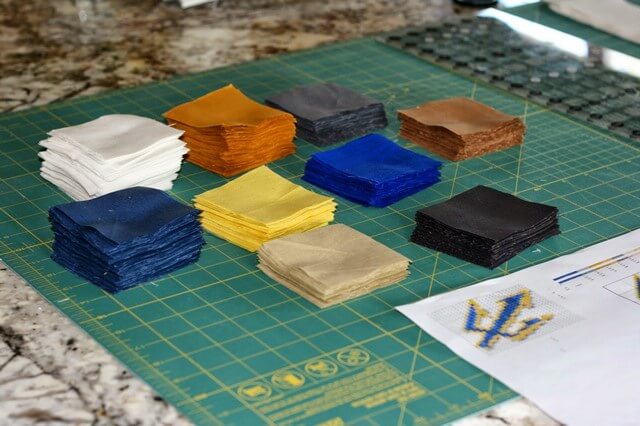 First stacks of fabric cut and ready. Squares are 3" x 3".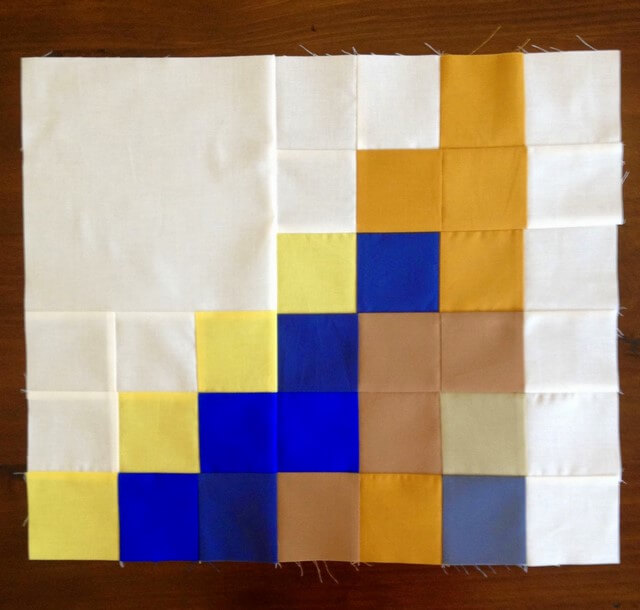 Block 1 finished. 9/8/14
Blocks are 18" x 15".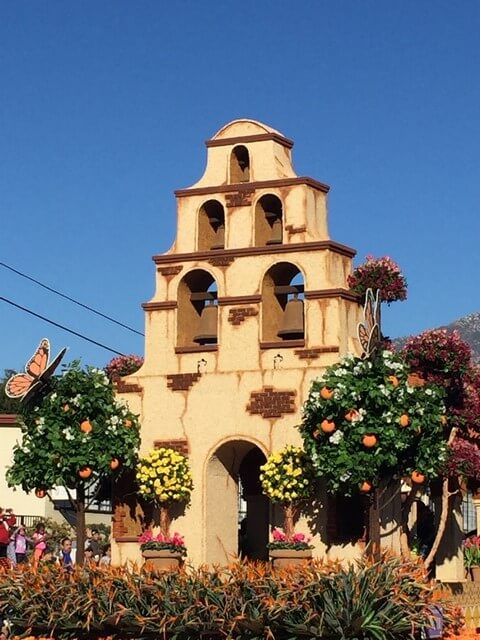 Block 2 finished. 9/9/14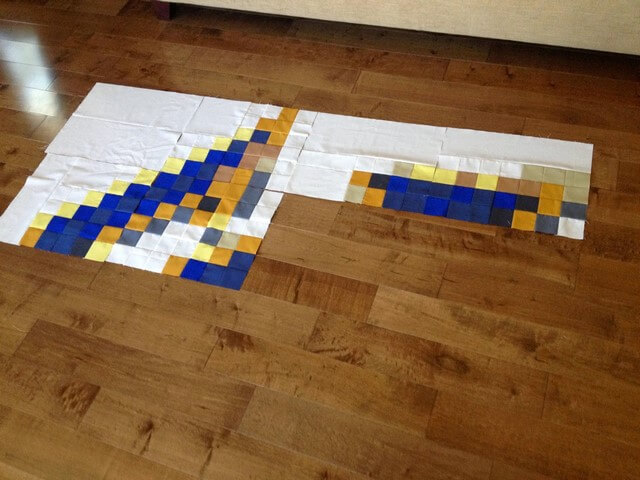 Six Blocks done. 9/10/14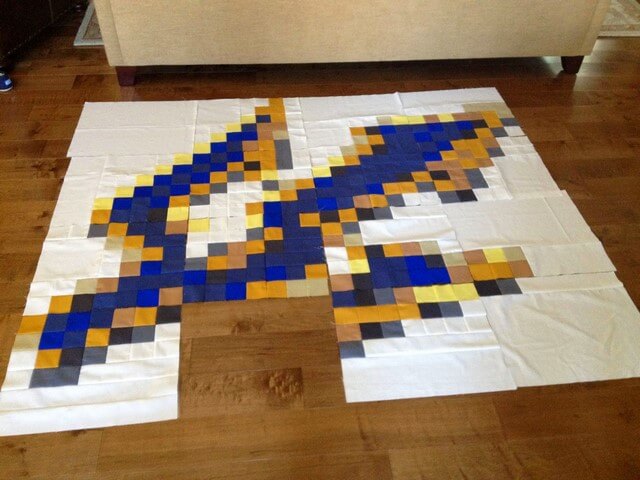 9/19/14 ~ I thought I had all 16 done....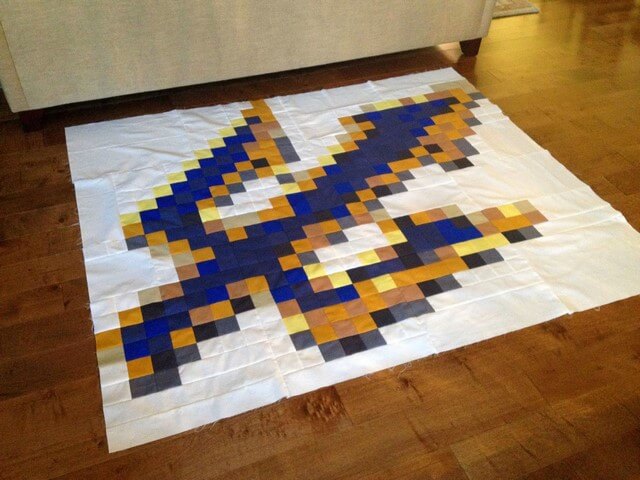 9/21/14 All 16 sewn together. Success!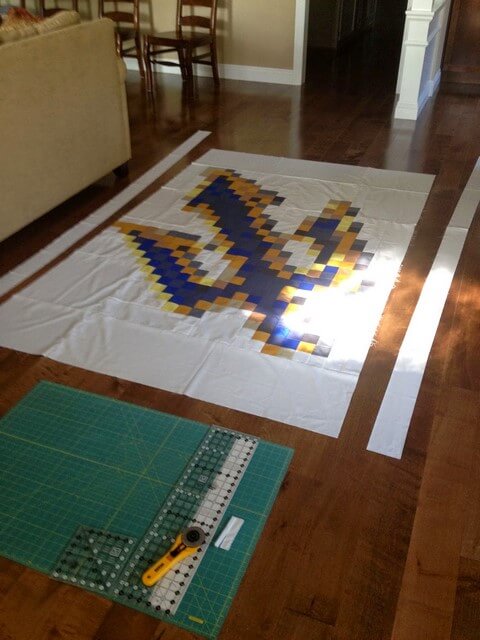 9/22/14 Adding more Kona Snow to bring quilt top to 95" x 65".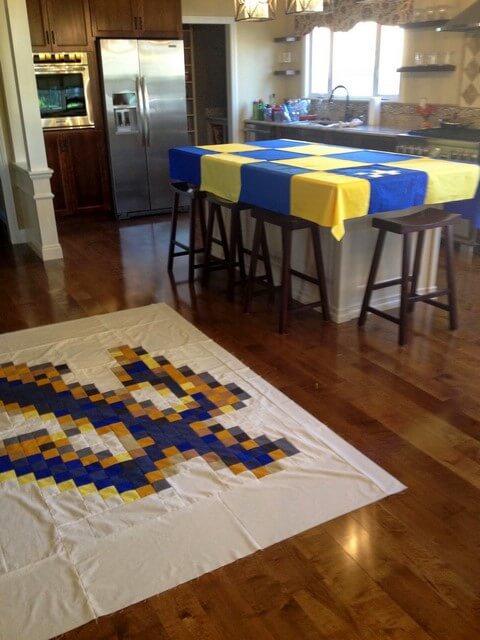 9/24/14 Quilt backing done ~ hanging over kitchen island.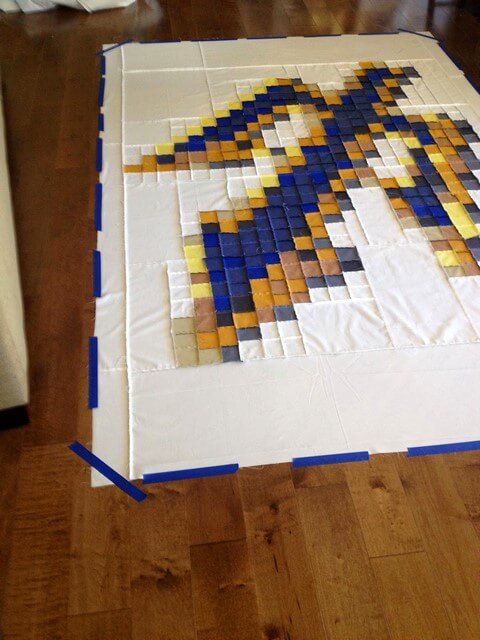 9/24/14 Taping down quilt top to ready for basting.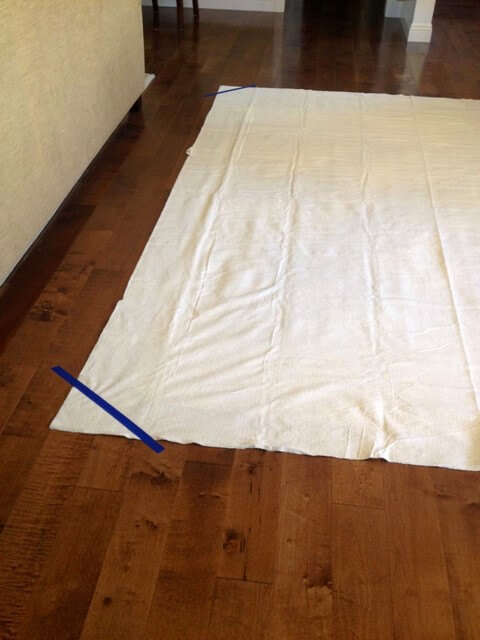 9/24/14 Batting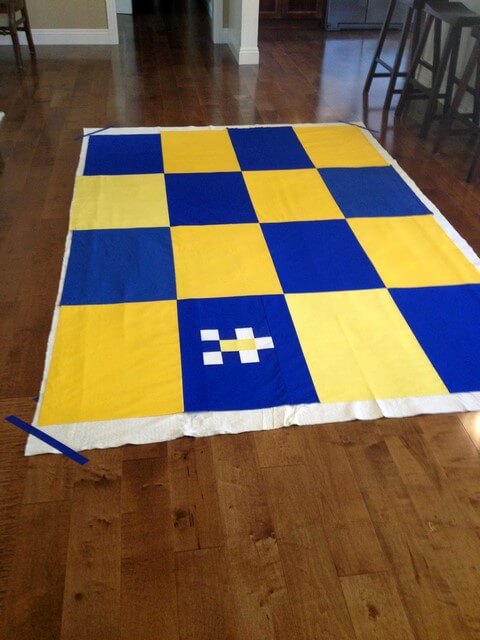 9/24/14 Quilt backing - Checkerboard squares of Kona Ocean and Corn Yellow,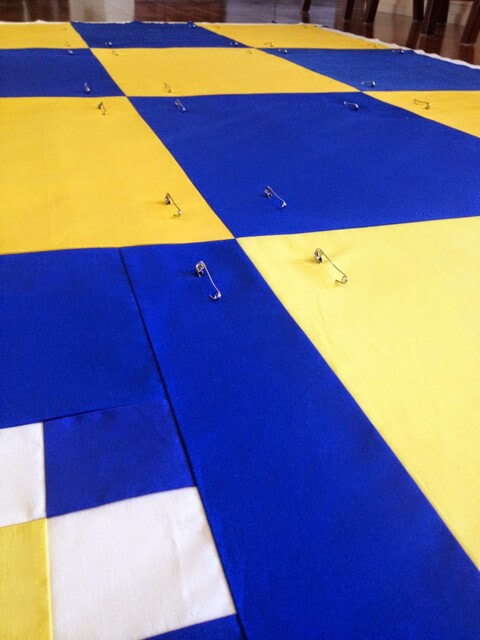 9/24/14 Pinning the layers together. OMG be careful not to scratch the floor with the pins!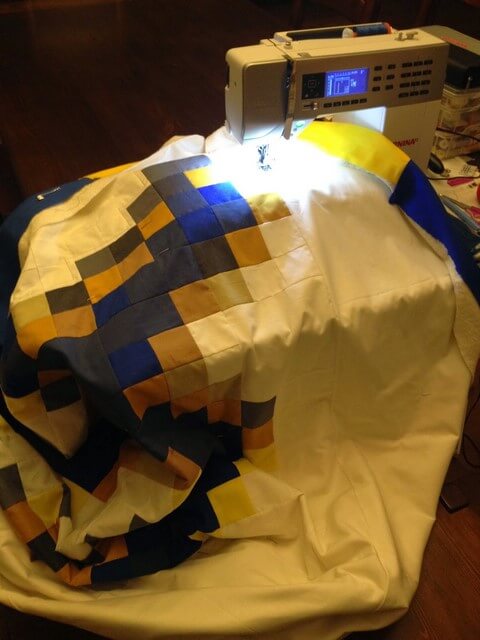 9/25/14 Start of the quilting process.
Quilting
took three days. I did a straight line quilt pattern approximately 3.5 inches apart all throughout the Kona Snow using
Aurifil
#2024 White. On the Triton design itself, I used
Auriful
#2740 Dark Cobalt, quilted in a stipple pattern meandering around from the bottom, and up and down all three tines.
Ending: Friday, September 29, 2014 at approximately 11:30pm. Here is the quilt after it was washed and dried. I was exhausted but exhilarated to be finished with this project. Just in time!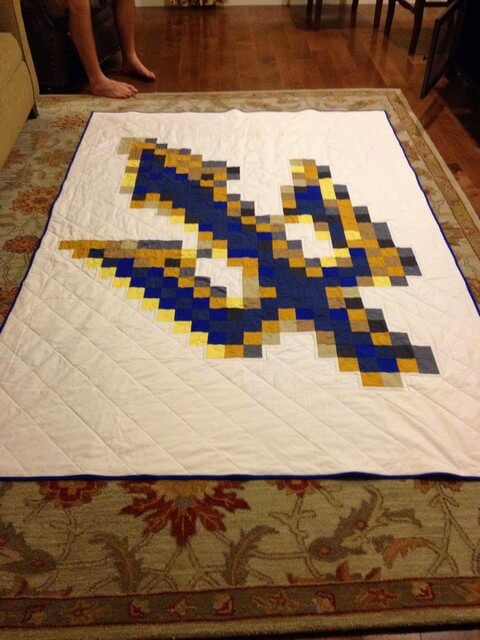 By the way at 10:00pm at night these two boxes, when inside a cabinet look extremely similar....What I thought were 6 (I was paranoid of bleeding) Color Catchers were actually Bounce sheets in the washer after the cycle was finished.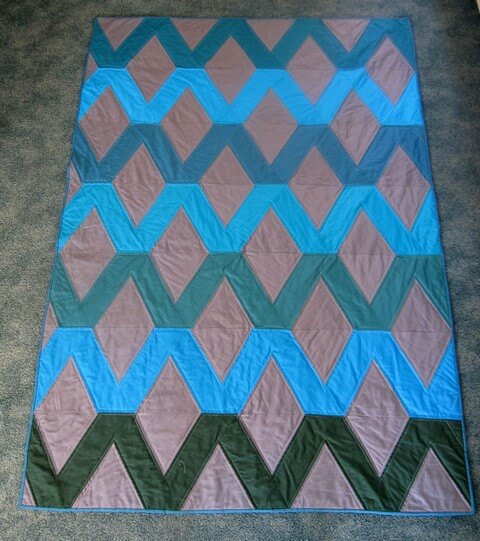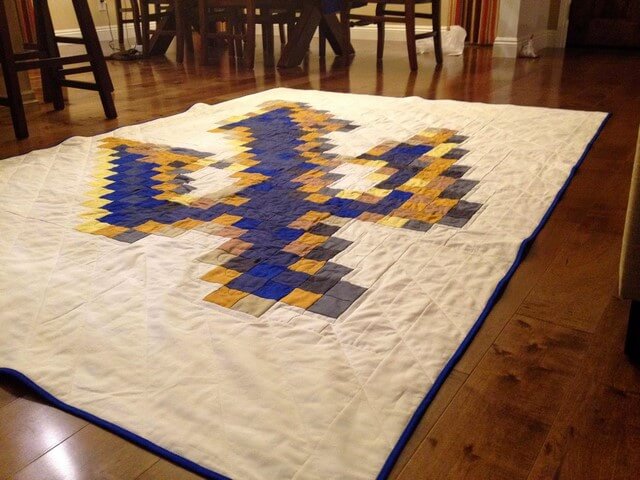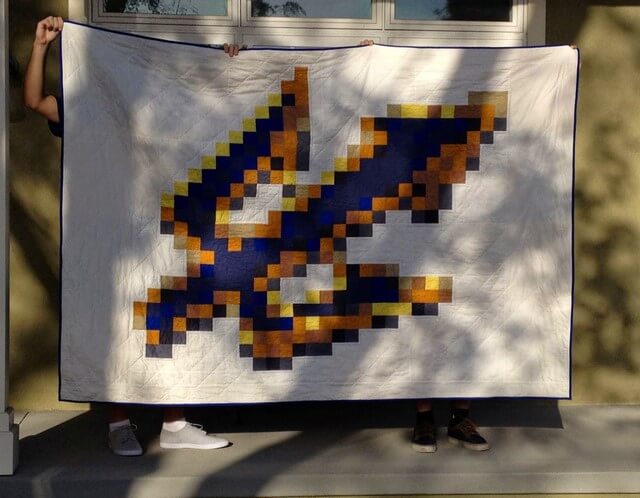 9/30/14 7:00am A quick morning shot before the quilt is packed and driven to UCSD.
The best part of the entire process was the text I received from my son after we had said goodbye and driven home. He sent me a picture of the quilt on his bed and a sweet thank you for all of my work.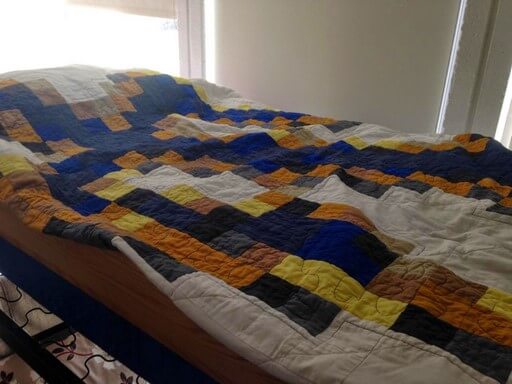 9/30/14 Approximately 3:00pm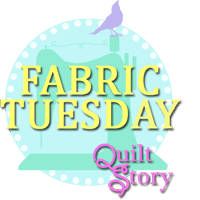 Hope you are having a wonderful Tuesday!
Ciao~
Susan