This past week due to CA Star Testing and being a student teacher, I had the luxury of time to sew. I took advantage of those few mornings in which I didn't have to teach until 12:47pm (was that ever weird) and sewed....sewed something super fun and a first for me.
I sewed up a baby/toddler quilt! I say baby/toddler because I purposefully made this quilt top larger (54"x 47") than the traditional baby quilt so that it could be used longer, if wanted. Months ago I knew that a special friend from school was having a baby boy in the Spring, so I had picked out
Vroom by Lesley Grainger
fabric because of the colors and the theme it invoked - transport/movement/progress/travel. After finding the perfect pattern, I began ironing and cutting fabric last weekend.
By Thursday morning I had finished the quilt top and came up with a name: Transport Your Dreams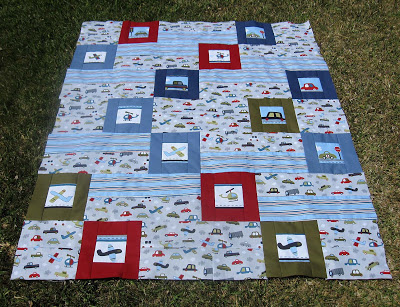 "Transport Your Dreams" Quilt Top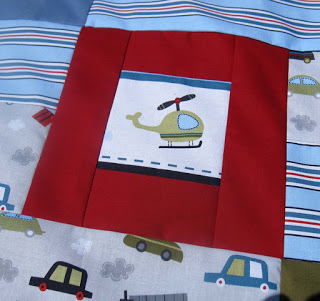 The Helicopter is so whimsical....I love it.
I'll be using the panel from the same line (Vroom) for the back of the quilt, although I'll need to add a border in the various solids I used on the front to bring it to the same size as the quilt top.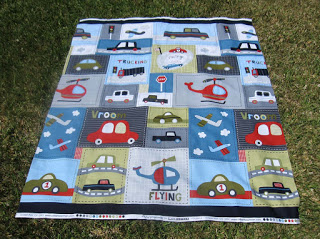 Vroom panel for the back
I've had so much fun working on this quilt just imagining how this little boy might enjoy it someday.
Enjoy your Sunday!
Susan