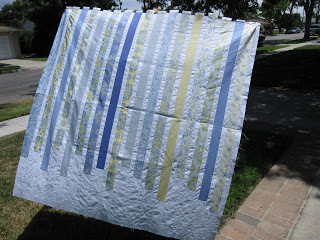 Spring Time Quilt
This is my first official quilt top. I used the Spring Time Recipe by Cherri House @ the Moda Bake Shop website. You can go here to check it out:
http://www.modabakeshop.com/2010/04/welcome-spring.html
I used Kona White and a Nature's Notebook by April Cornell Jelly Roll. I finally bought backing yesterday and plan to start quilting very soon.
My son was holding up the quilt top for me and there was so much wind in the air that a few seconds later it had whipped up over his head!
The instructions listed in the recipe were excellent and I am very happy with the results. I'm off to iron the backing and get quilting!