If you have been following my blog for awhile, you know that I bake a lot of bread. Focaccia, Mantova bread and pizza dough are in a steady rotation in my kitchen. I have always wanted to tackle a French style loaf to make lunches for my boys and finally decided to on Tuesday. I went to the website where I found my Focaccia and pizza dough recipes and found this: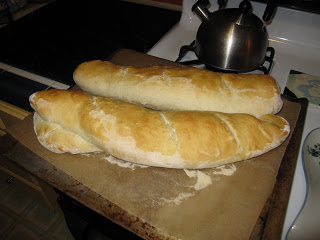 Classic French Bread
For the first try I was very happy with the results - a crust that was not to hard but not to soft, an even distribution of small air pockets all throughout and a delicious taste. If you like to bake bread or want to try, check out this
website
. I don't know who this guy (his name is Tony van Roon) is but based on his bread recipes, he is brilliant. I think he's some kind of scientist/engineer with a passion for perfectly calculated recipes. Go check it out.
One more recipe I want to share with you all are the Chicken Egg Rolls from
Annie's Eats
. This was my first time trying one of her recipes and I was not disappointed. They were very good. I get comments from family and friends telling me what a great cook I am and although I don't deny that what comes out of my kitchen is pretty darn good most of the time, some credit should go to the fact that I find recipes that are very well written and follow them.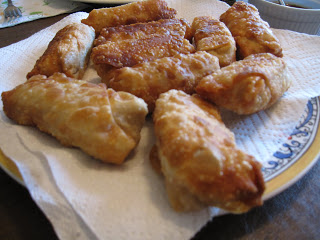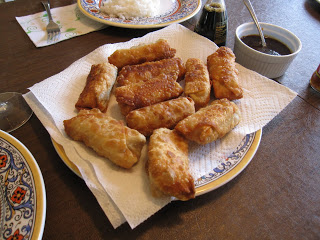 Chicken Egg Rolls
One perk of having a garden? These egg rolls have cabbage and green onions from my garden inside. Went to my garden last night to water and was pleased to see that the Butternut Squash, Tomatoes and Peppers I planted last week are all showing signs of growth. Love my Spring/Summer garden!
Have a great Thursday,
Ciao!