For me, cookbooks are culinary history just waiting for me to read about and re-create the past. I used to purchase a lot of cookbooks and then face the problem of having to justify the minimal shelf space for that cookbook so I started a policy that for every new cookbook I purchased I would give one away. That policy has worked well for me as I give those cookbooks that I have no room for, but still have a lingering interest in, to my local library. My local library has become my own personal cookbook repository and I infrequently check out my old donated cookbooks.
Here is the finished product: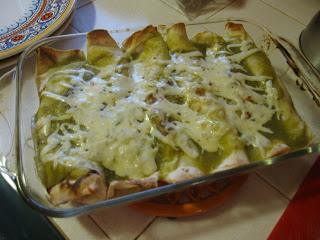 Chicken Enchiladas with Tomatillo Sauce (Enchiladas Verdes)
On the stove you begin with gently poaching chicken breasts in water with garlic, a little onion and some salt. Boiling the chicken until it barely resembles chicken and is as tough as shoe leather is not the goal - what you want is perfectly cooked chicken that shreds easily and is very moist. The resulting poached chicken can be used in many different ways such as chicken salad sandwiches or a topping for a salad or a pizza. This is chicken with flavor but without fat and with minimal effort.
While the chicken is poaching, the Tomatillo sauce should be started. The Tomatillos, along with Serrano Chilies (I use Jalapeños too) and water are brought to a boil on the stove and simmered until the Tomatillos are tender. Once tender, the drained Tomatillos/Peppers are placed into a blender or food processor along with garlic and blended until the mixture is smooth.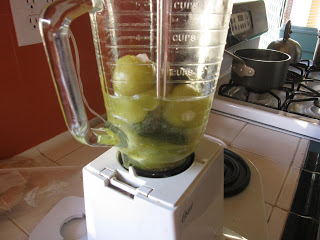 Tomatillos, peppers and garlic.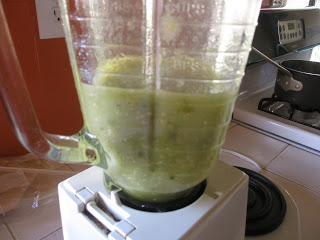 Tomatillo Sauce - one more step
I use my blender for this step as apposed to a food processor as I inevitably make a huge mess with the food processor when working with liquids. This batch of Tomatillo Sauce was only for dinner last night so it was small but sometimes I have to process in batches as I make a lot for future use. The Tomatillo Sauce is also a great Salsa for chips.
After blending, the Tomatillo Sauce goes back into a saucepan with some added Canola Oil and salt and cooked for about 5 minutes or until it thickens up.
Now it's time to assemble the enchiladas: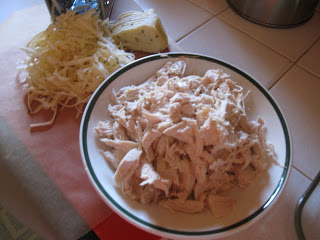 Shredded Chicken, Shredded Pepper Jack Cheese
A quick assembly of a lightly fried flour tortilla (I was out of corn), shredded chicken, pepper jack cheese and some Tomatillo sauce: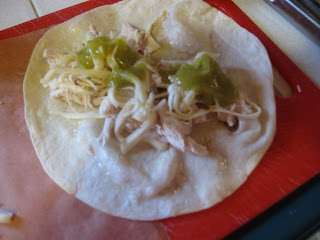 And they are ready for the oven: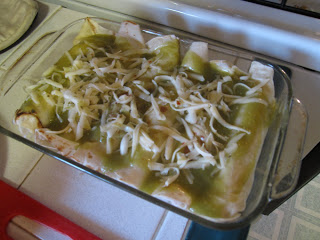 A few necessary condiments: Fresh tomatoes, remaining Tomatillo Salsa and Greek Yogurt. I am slowly weaning my family off of Sour Cream as Greek Yogurt (if you have a taste for yogurt) is healthier but gives you the same mouth feel as Sour Cream.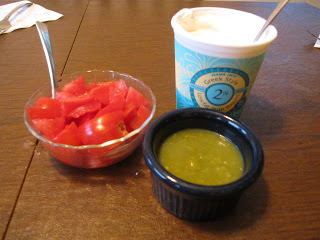 Fresh Tomatoes, Tomatillo Salsa & Greek Yogurt
Dinner is served: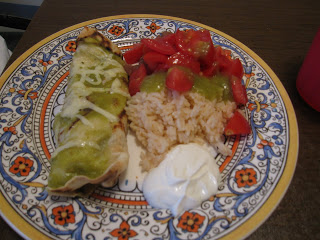 Chicken Enchiladas with Tomatillo Salsa with Beans and Rice




Have a safe and fun Holiday Weekend everybody,
Susan