You must be wondering what cutting fabric and Mac-n-Cheese have to do with one another....nothing. I haven't gone off my rocker by incorporating actual food into my quilting (although I do have some food fabrics) but this past Wednesday evening I had two "light bulb" moments where ideas I had gathered from elsewhere synthesized in my brain into time savers for me. First the quilting tip:
Back when I began the Supernova QA with Lee from
Freshly Pieced
, she had suggested in the cutting requirements that we cut all the fabrics from each block and separate them into plastic bags. I followed those directions and have four sandwich sized bags left that represent the four blocks I have left with that QA top. An excellent idea by Lee in which this past Wednesday evening I realized that I could do that with my other Works in Progress, like the Block-A-Palooza. Doh, I thought...of course I could translate that great idea into helping me finish a few other of my WIP's. So I give you the five remaining blocks of Block-A-Palooza sandwich bag form: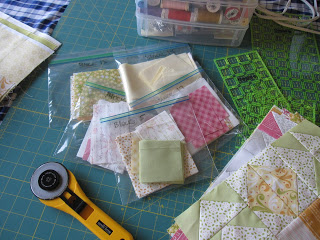 I know that the ease of just grabbing a bag and spending some time only sewing will help me get through these quicker than my usual routine of ironing and cutting the fabric out before I begin sewing each block. I am on a mission to finish my WIP's early in the summer so that I can spend time on Christmas projects and creating items for a craft fair that I've been asked to participate in later this year (more on that later).
Should not be any surprise to those who know me or have been reading this for a while that I make Mac-n-cheese from scratch. I am not a food elitist who looks down on packaged foods as a whole but while in my 30's and as the cook/chef in the house, feeding myself and my family healthy and great tasting food became very important to me. I know that the adjective "healthy" and Mac-n-cheese do not normally go together but when I make Mac-n-cheese from scratch at home with only six ingredients as opposed to the 14 or so listed on the ubiquitous Kraft Mac& Cheese label, I know that I am serving my boys a healthier and much better tasting (to their palates) dish. We eat everything in this house and I buy nothing diet, low fat or low cal as I want what I eat to taste the best it can, but we do eat in moderation. Would I like to sit in front of the TV with a pint of Ben&Jerry's Creme Brulee, S'Mores or Peanut Butter Cup and devour the whole thing? Sure I would...but I don't.
So I give you my "whatever cheese is in the fridge" version of Mac-n-cheese: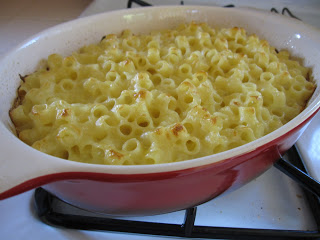 "whatever cheese is in the fridge" Mac-n-cheese
This makes about four servings
8 oz. pasta - any small pasta will do
1 cup of milk - heated up
1 1/2 tsp flour
1 1/2 tsp butter
assorted cheeses - about 1 1/2 cups grated
salt
Boil your pasta in water that has been salted. It will taste better. While the pasta is boiling, in a separate pan melt the butter. With whisk in one hand, pour in the flour and stir the butter and flour together to make a roux. Keep the heat on to cook this roux for about a minute, but do not let it brown so keep the heat to medium.
Again with whisk in hand, slowly pour in the milk into the roux mixture. It will be very thick at first when you begin pouring the milk, but will relax once you have poured in the entire cup. Turn up the heat to get this mixture to a slow boil. Put your whisk away as now you need a spatula or a long handled spoon. Now you add your cheese or cheeses. I call this the "whatever cheese is in my fridge" Mac-n-cheese because I like to use up small amounts of cheeses so they don't go to waste. Last week I used Pepper Jack with Cheddar and it was a hit. This week it was Cheddar mixed with Mozzarella and Asaigo cheeses. Once this mixture is thick, pour in your already drained pasta. Mix this up well and then pour in to a shallow baking dish. Bake at 400 degrees for about 20 minutes. Enjoy!
I'm off to the beach now to watch my older son play soccer on the sand.
Enjoy your Saturday!
Susan