I love to read the newspaper in the morning while drinking my tea as the sun streams in my front windows. I don't usually have time to read the entire paper in depth but there are days in which a favorite section or two must be read. Thursdays for as far back as I can remember has been the Food section and I've been reading, cutting and cooking from that section for years. This is my stack of Food sections from the past month or so.....need to get recipe cutting and organized into my recipe binder.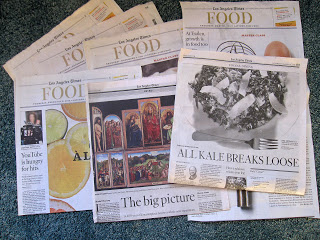 Well the Thursday Food section is no longer as The Los Angeles Times has moved their food coverage to a new Saturday section. Without getting off topic, I was looking forward to this new section thinking it would have expanded coverage as the Pulitzer Prize winning food writer Jonathan Gold has just joined the Times, but no luck so far - the food portion is now a measly 4 pages. Bummer.
But there is a sweet ending to my story: Double Chocolate Espresso Cookies! In the March 17, 2012
Saturday
section there was a Culinary SOS column in which
Double-Chocolate Espresso Walnut Cookies
were featured from a restaurant here in the greater Los Angeles area called
Julienne
~ which after checking out their website, I need to go there for lunch someday. They caught my eye as they were made with chocolate (which I love) and espresso (which people I love, love) so I thought I would give them a try. I omitted the walnuts as nobody around here likes them but followed the reminder of the recipe exactly. My were they ever good.
(I had to have a little nibble...)
Double-Chocolate Espresso Cookies
I'm linking up with Debbie with her Tuesday at the Table feature today - she's posted about a salad that I'm dying to try....go check it out!

Happy First Day of Spring!
Enjoy your Tuesday,
Susan