Hi Everyone,
The History Quilter Podcast Episode #9 is now available via the link to the right, on Podbean at
http://historyquilter.podbean.com/
or on iTunes (search for The History Quilter). In this week's episode I spoke about the history of hexagons, a few recipes I am working on to discuss in the next podcast and my thoughts of my first quilt guild meeting.
Here are the links:
Quilters by the Sea Quilt Guild. Check them out at
www.quiltersbythesea.com
. The lovely Marilyn Pond is the quilt guild president this year - please check out her blog at
http://marilynpond.blogspot.com
. Wonderful "rock star" moment when I met Beth of Love Laugh Quilt. Please check out her wonderful creations at
http://lovelaughquilt.blogspot.com/
.
2011 Southern California Quilter's Run: Two weekends - June 16 -19, 2011 and June 23 - 26, 2011.
www.quiltersrun.com
.
The Jelly Roll 1,600 Quilt: Check out this funny YouTube video from
Heirloom Creations
, a quilt store in Sioux Falls, SD. What a great way to sew up a quilt top
FAST
with Jelly Rolls.
http://www.youtube.com/watch?v=EomX7t7to_o&feature=player_embedded
.
A short history of using hexagons in quilting can be read at www.womenfolk.com. Their Quilt Patterns Through Time section highlights hexagons.
http://www.womenfolk.com/quilt_pattern_history/mosaic.htm
The Illinois State Museum has a website with a section dedicated to the arts which includes "Keeping us in Stitches: Quilts & Quilters".
http://www.museum.state.il.us/muslink/art/htmls/ks.html
In the pieced quilts section, hexagons are illustrated with four different quilts which show the evolution of the hexagon quilt from 1870 - 1945.
This gorgeous hexagon mosaic quilt caught my eye for it's modernity and symmetry. Make sure you check out the description of this
quilt
.
Albert Small, Ottawa, Illinois
Mosaic, 1941-44
I spoke about an Apricot Sauce or
Salsa Di Albiocche
that I made from
The Silver Spoon
, an English language translation of
Il Cucchiaio d'argento,
the Italian culinary "bible". I had eight ripe/almost too ripe apricots sitting on my counter and needed to use them up so I grabbed this cookbook, found Apricot Sauce in the index and went to work. The sauce is to die for.
Salsa Di Albicocche (Apricot Sauce)
adapted from The Silver Spoon cookbook
3/4 cup superfine or granulated sugar
about 8 apricots (pitted but not skinned, chopped fine)
In a small
sauce-pot
, put the sugar and a scant 1 cup water and bring to a boil over
medium
heat, stirring until the simple syrup thickens. Add the chopped apricots to the simple syrup and gently boil about 5 minutes, stirring occasionally (I did use a potato masher to crush the apricots down to my personal preference). Turn the heat off and let the sauce steep for as long as you like. I poured the sauce into a pint sized glass jar and can't wait to pour it over Vanilla ice cream tonight. The recipe says it would go well with chocolate desserts and cakes.
I did sew up Block 17 of the Block-A-Pallooza yesterday. I love pinwheels!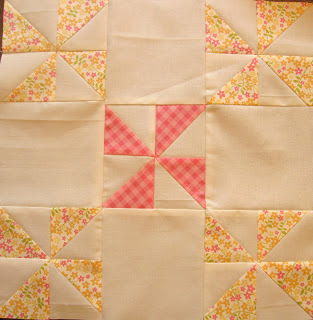 Block 17
Enjoy your Saturday!
Susan