I joined Twitter! Come by and follow me at HQSuz so I can follow you back.
A very happy Tuesday to you all...to those of you sweltering in the heat I feel for you. I apologize in advance for telling you that here in Southern California we are enjoying perfect weather - it's about 65 degrees with bluebird skies at 8am. I have a movie date with my boys this afternoon to see HP 7.2 but am compelled to admit that I've not seen HP 7.1. Now that my boys are older I rarely see movies with my boys anymore so HP 7.1 just passed me by. A movie I won't be missing in the theater is
Coyboys and Aliens
- I never pass up a chance to see Daniel Craig on the big screen.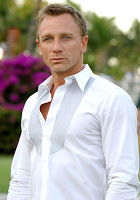 Who's with me ladies?
I finally recorded HQ Episode 11 last night at about 7pm while the house was quiet -well my house was quiet but the dog next door would not stop barking! Hopefully the barking doesn't come through. In episode 11 talk about Dowry Quilts, Trousseaus and Hope Chests and I added in what I've been cooking and reading and a whole lot of other quilty goodness.
Here are the details:
My Little Glam Bag - pattern by
Pink Sand Beach Designs
.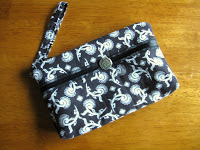 My Little Glam Bag
Summer Sampler Series hosted by Faith of
Fresh Lemons Quilts
, Lee of
Freshly Pieced
and Katie of
Swim Bike Quilt
.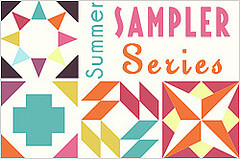 The winner for my 100th blogpost giveway was Debbie from
A Quilter's Table
. Not only is she a very talented quilter but she blogs about food. Her Tuesdays at the Table feature is a favorite of mine. Please go check out her blog at
aquilterstable.blogspot.com
Gloria from Escondido e-mailed me about the "1800's Club" she belongs to. They meet at
The Crazy 9 Patch
Quilt Shop in Ramona, CA. The club gets together to share and sew about the history of quilts with a focus on the Civil War Era. Wished I lived closer to Ramona as I would love to be a part of this group.
The
San Diego Quilt Show
is coming up - September 8-10, 2011. I will be going to this show and would love to meet with any listeners on Saturday, September 10th in the morning. Send me an e-mail or comment if you want to meet up.

Long Beach Quilt Festival
The
Long Beach Quilt Festival
is just around the corner! I'll be meeting up with listener Ann from Santa Barbara on Saturday, July 30th at 12:45pm just before the 1:00pm showing of
Stitched
- the quilting documentary. Send me an e-mail or comment if you want to join us.
I met Eileen Wintermute, a local Southern California quilter during the Southern California Quilt Run a few weeks ago. She will have a quilt on display in the Bridges exhibit at the Long Beach Quilt Festival. Please visit her blog at
http://eileenwintemute.blogspot.com/
and view her gorgeous mixed media and art quilts.
Cooking a whole chicken on the grill intrigued me as we had never tried it before. I bought a 4 pound chicken, cut down the backbone and flattened it. After cutting out the breastbone, I placed it in the garlic, olive oil, lemon juice, lemon zest, rosemary and S&P marinade for about four hours. The chicken was very good and I will make it again although it took quite a bit longer on the grill than is explained in the recipe. Recipe said 12-15 minutes per side but it really took about 45 minutes total. Lemons on the grill - very tasty!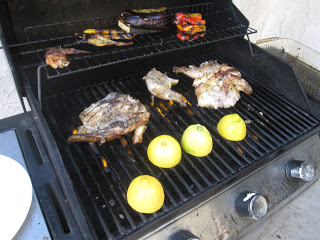 It's a well used grill.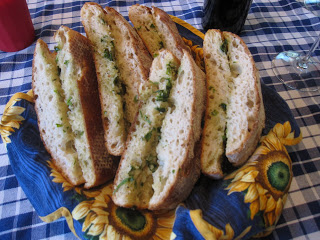 Garlic Ciabatta Bread - to die for.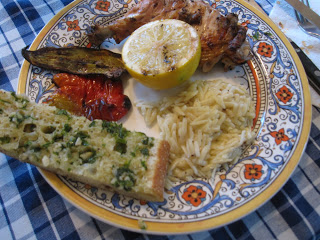 Dinner is served.
Saturday night's dinner was a hit with two new recipes that I'll make again. Tuscan Lemon Chicken, Garlic Ciabatta Bread, grilled lemon halves, assorted grilled veggies and orzo and paired with a glass of Sangiovese, made for a great meal.

What are you cooking for dinner tonight?
Susan