*My Giveaway is still open go here to enter.*
Happy Sunday Everybody!
History Quilter Podcast Episode 15 is now up on
Podbean
and
iTunes
. In this episode I talked about two ways in which quilts can be used to teach history. In a classroom setting, teaching children about quilts can inform them about the chronological age of a quilt, the geographical area where the quilt was made and the social/family history of the quilt in regards to whom it was made for and why it was made, etc. Quilts can also be used as a biographical account of a portion of a person's life as in the example I spoke about.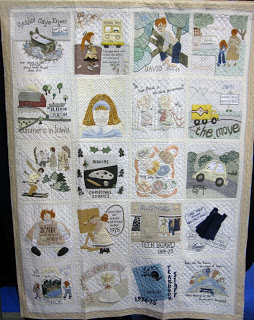 The 35 Year Quilt made by Joan Erger
I took the photo above at the
Flying Geese Quilter's Guild Quilt Show
on Saturday October 1st, 2011 held in Aliso Viejo, CA. Ms. Erger in the description card explains "The quilt, for my daughter, was designed before I began constructing it. My family and I decided upon 20 milestones in her life, birth to high school graduation, we felt should be included in the completed quilt." As I said in the podcast, we quilters have the ability to create biographical legacies to share with the world, just as writers can with biographies and filmmakers can with movies. This quilt was without a doubt my favorite at the quilt show as the combination of Ms. Erger's artistry/mastery and the story that the quilt told made it stand out above all the rest.
I asked a few questions in the podcast:
I subscribe to American Patchwork and Quilting - are there other quilting magazines which should be showing up in my mailbox?
Are there family recipes that you make that you thought were original to your family but then come to learn that many others have the same recipe?
Here is one of my vegetable gardens. It is approximately 17" by 4" right now - the plan is for another row by next spring.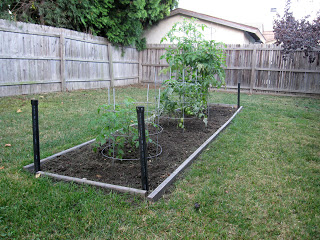 Still waiting to meet Ahmed from Yard Crashers...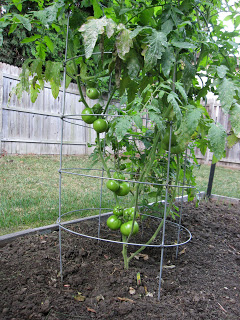 Early Girls waiting to ripen
Off to the kitchen to start on those croissants I talked about...
Susan