Happy Friday!
Earlier this week I was away on a little vacation and I had such an enjoyable and meaningful time that I decided to record a podcast about it. History Quilter Podcast Episode 30 where I talk about Travels and Grandmother's Quilt Blocks is now available on
iTunes
,
Podbean
and
Stitcher Radio
.
Here are the photos that accompany what I spoke about:
The Nimble Thimble
quilt shop in Gilroy, CA that I parked in front of without paying attention: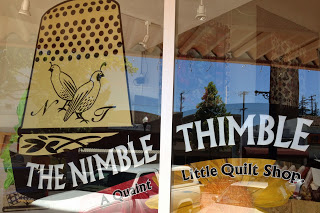 My Aunt Connie and I.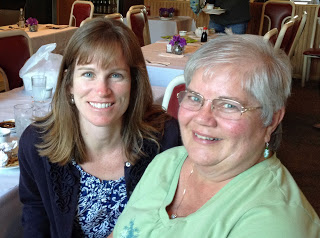 My Tribe: My Aunt Connie, myself and my super fun cousins: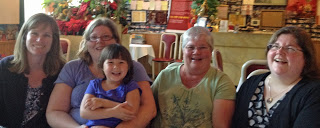 Palace of Fine Arts
in San Francisco, CA. Had a lovely walk around the grounds.
Tootsie's at The Stanford Barn
in Palo Alto, CA. Delicious breakfast, great atmosphere and very friendly staff.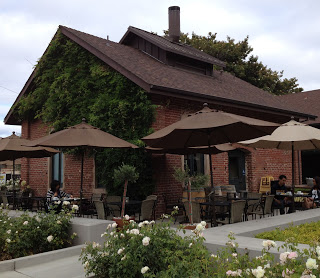 My Grandmother's Quilt Block. My Aunt Connie gave me all of the quilt blocks that her mother (my grandmother) was working on before she passed. I will be making a quilt out of these blocks for my Aunt Connie. There are 15 of these in various prints and colors with about 10 more cut and pinned together. A huge thank you to
Jaye
and Nonnie via my Twitter plea last night, who suggested this is an Ohio Star block on point.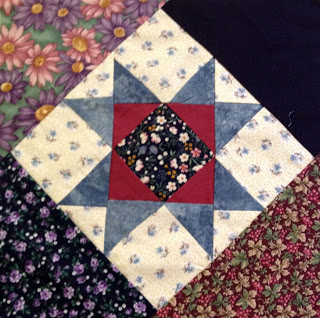 As I was making dinner while recording, here is a photo of what I ended up with: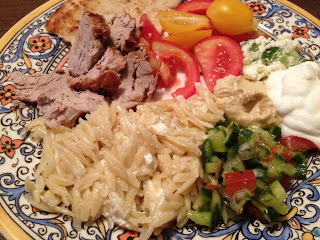 And just because I can, I am entering in the
4th Annual Good Food Pie Contest
to be held on Saturday, September 8, 2012 at LACMA. As of right now I have no idea which pie I will enter but I will be highlighting my pie journey here in the next seven weeks. Hope my guinea pigs are ready for PIE!
If you are a podcast listener, Good Food is an excellent food podcast originating from Santa Monica, CA. Take a
listen
and read the
blog
.
I'm off to make pie!
Ciao~
Susan