Thank you all so much for your kind comments and thoughts in regards to my last post about my Birth mother. I had an enjoyable birthday with components of most of the things that I love part of my day: I took a yoga class, saw War Horse, did a little sewing, a little schoolwork (
unavoidable
), went to the Quilters by the Sea Guild meeting with Zina and enjoyed my favorite cupcakes (
Frosted Cupcakery
on 2nd Street if you're a local) with my family when I returned.
Due to schoolwork I have not done a great deal of sewing this week but I was able to finish a project and deliver it yesterday to my niece. She had seen these pillows while In-Process and wanted to take them home an evening a few months back when my brother and family were over for dinner. When I saw her excitement about the pillows I knew right away that I would give them to her. These pillows are a kit that I purchased at the Long Beach International Quilt Show that I attended in 2010 while in my "infatuation" phase of quilting...when I just purchased anything I saw without regards to what the project would be for or whom it would be for.
So I give you the Infatuation Pillows: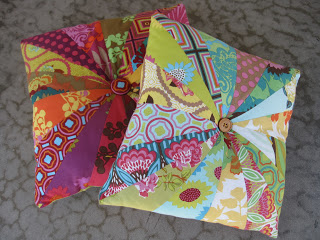 18 x 18 & 16 x 16 Pillows - Anna Maria Horner fabrics
Side note about the buttons on the pillows; button on the left is a fabric button which went on without any trouble. Button on the right pillow was not so helpful...original fabric button broke, then second fabric button broke (annoyed at this point), then I poked myself with the upholstery needle I was using...damn blood on the fabric. Finally had to raid my large bag of buttons I inherited from my mother as I was out of fabric buttons and was determined to get this project done.
Was not so infatuated with these pillows in the end.
Enjoy your Saturday~
Susan