What does a hungry carb-loading 15 year old soccer player want the night before a big game?
Ladies and Gentlemen I give you Linguine with Lemon and Cream: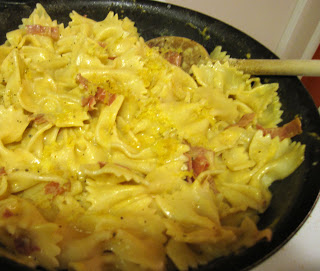 Bow tie pasta with Lemon & Cream
The original recipe which I got from the October 2006 issue of
Cuisine At Home Magazine
calls for linguine pasta but I have used many different shapes over the years depending upon what was in my pantry and as you can see, that is not linguine in the above photo.
Linguine with Lemon and Cream
adapted from Cuisine at Home Magazine
4 tbl unsalted butter
8 slices prosciutto or ham
1 cup chicken or vegetable stock
1/2 cup heavy cream
1/4 fresh lemon juice
4 tsp lemon zest
8 oz dry pasta of choice
1 cup Parmigiano-Reggiano, grated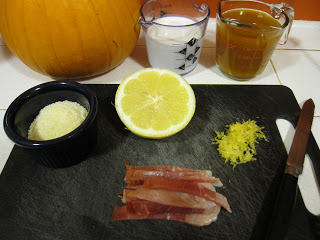 Melt the butter and saute the prosciutto in melted butter until browned. Pour in the broth to deglaze the pan.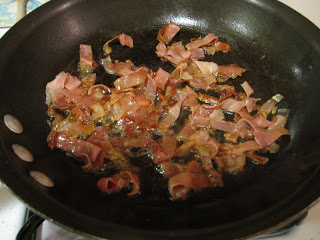 Pour in the cream, lemon juice, and lemon zest. Reduce the heat to low and cook for a few minutes. Meanwhile cook your pasta.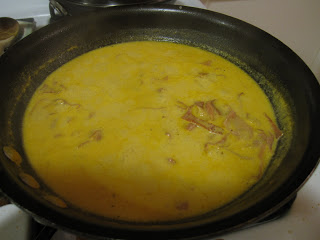 After the pasta is cooked and drained. Add it into your pan with the sauce and stir. The sauce will be thin so you can either add the cheese directly into the sauce/pasta before you plate it or after.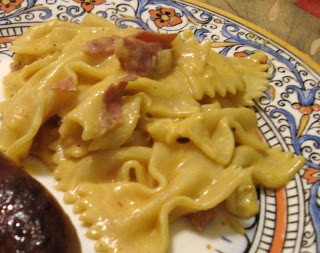 Serve with some sausages, a salad and a glass of wine.
By the way - the 15 year old does not get any wine.
Bon Appetit!
Susan