I took advantage of a quiet house this morning and recorded a short podcast about various subjects ~ ergo, The Miscellaneous Episode.
Sandy from the
Quilting for the Rest of Us
podcast commented/reminded me this week about her podcast Episode 63 where she spoke with Jaye of
Artquiltmaker.com
about Lines in Quilts. In her blog notes, she highlighted a few Log Cabin Quilts which both she and her mother had made. Go take a look at Sandy's photos
here
. They are wonderful.
Gretchen from
120 Blocks
also commented during the week about a Log Cabin Quilt that fellow quilters at her church created for a charity auction to raise funds to support missionaries. She explained how individual quilters made blocks and how Gretchen had to "re-do" some of them and she was very clear on how she did not appreciate that process.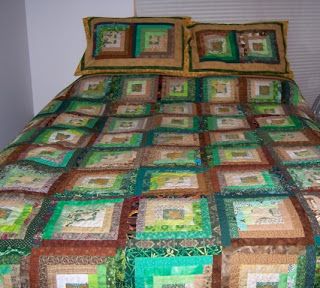 Charity Log Cabin Quilt - Photo courtesy of Gretchen of 120 Blocks
After a very busy morning and early afternoon, I rewarded myself with some time at the sewing machine. My results: my first log cabin block. Improvisational, fun and perfect for my 12 year old niece. It was fun to move from side to side picking up a slice of fabric and placing it here or there to get the right feel.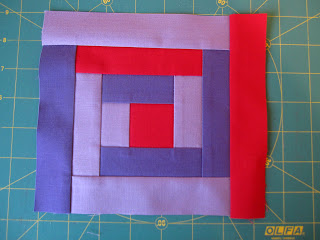 Before I forget, I will be participating in
Sew Mama Sew's Giveaway Day
on Monday, December 12th so please come back to see what I'm cooking up.

Enjoy the rest of your Saturday,
Susan