My goodness, it has been fifteen days since I last posted. That fact right there illustrates to me that consistency needs to be my word/goal for 2011 with this blog. After listening to the latest
Quilting... for the Rest of Us
podcast, I have been mulling over goals/resolutions for 2011 in my head for the last few days and consistency keeps popping up in my head. Jennifer at
That girl... That quilt
has also inspired me with her post regarding blogging.
The bottom line is that I want this blog to work/flourish/grow in 2011 and just like with anything, I need to feed it in order to make that happen.
So I began this beautiful clear morning here in Southern California by a little redesign to the blog. I like simple and hope that you do to. If you like what you see, let me know. If you think I could improve on anything then please comment on that too.
Now on to the fun portion of the blog for today. Photos! Here is a recap of the items I made for family members for Christmas 2010.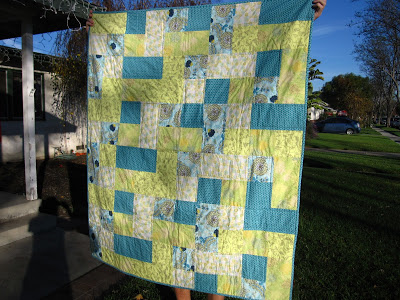 SeaGlass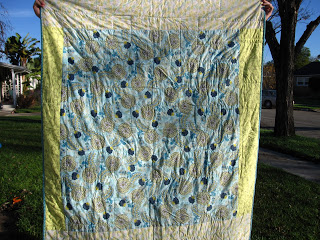 Back of SeaGlass
So this was the MIL quilt that I officially named SeaGlass as I was working on the quilting. As usual the photos do not do it justice as it really turned out well, although you can see in the puckering on the back that I need to work on my basting skills! Spray basting is in my future - along with a big piece of plywood/saw horses in the garage to make it happen.
Now we have a few photos of the things I made for my nieces for Christmas.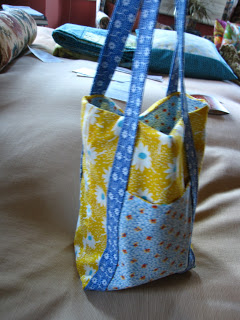 Poochie Bag from Happy Zombie
Another Poochie Bag from Happy Zombie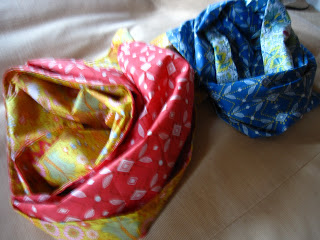 Voile Scarves made with AMH fabric
The
Poochie Bags
(pattern by Happy Zombie) were filled with books and made for my younger nieces who truly seemed to enjoy the gift. The scarves were made for the older nieces who opened their gifts, smiled and moved on. Big letdown for me but hey, I can't just expect them to pull out trumpets and begin telling the world how much they love their gift, can I? Another day, another post for that subject.
I'm off to a day of crafting, cleaning up after my husband who is finishing up the year long painting project in my tiny 1950's kitchen and a trip to Joann's for their end of the year sale - there are a lot of Quilting items on sale!