This past weekend I started cutting into the t-shirts that were sent to me by my cousin Liz to make her oldest son a t-shirt quilt. On Saturday I cut the backs and fronts apart, cut off the sleeves and neckline and felt no pang of nervousness while doing so but the next step was another matter. Thanks to the positive feedback via Facebook and the comments from my Saturday post, I began cutting out the logos on the backs and the fronts but I was sweating the whole time. The recurring thought running through my head was: What if I cut them too small or crooked?
I persevered and ended up with 33 logos that are 13"x13" and a few random larger and smaller sizes which I may incorporate into the back. It seems like a lot of blocks but I am making a twin size quilt.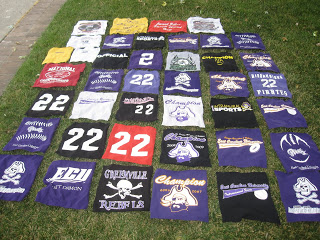 logos cut out...33 in all with a few random sizes
So now readers I need your help...do you see all that purple? Sally from
Fibercrafter's Musings
suggested that I use Kona fabric for the sashing in between the blocks which I will be doing to lend a cleaner look to the quilt but I need to chose a color. What color should I use for the sashing/border? (FYI: The purple in the shirts is exactly 1301 Kona Purple.) Whites/Greys or blacks? Or something else?
Today's step will be to stop in at Joann's to purchase fusible interfacing so I can begin ironing.
I'm linking up with Fabric Tuesday at
Quiltstory
today and before I wrote this I went on over there to see what had been posted already today (it's 7am here in CA and there are already 21 submissions!) and guess what...there is already a t-shirt quilt listed in progress. What are the odds? :)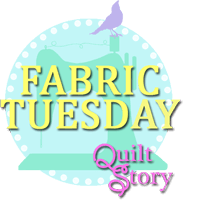 Enjoy your Tuesday,
Susan