Happy Sunday everyone! We are enjoying a gorgeous weekend while awaiting another rainstorm here in Southern California tomorrow, and as this blogpost has a landscaping theme, here is a video of my new rainchain in action last week. I absolutely love the twinkling sound it makes when water is flowing down through the cups. If you want one yourself, go check out rainchains.com.
I've been extremely busy on the weekends lately with landscaping in my front yard. As I am participating in the City of Long Beach Lawn to Garden Program, I have a deadline of January 8th, 2015 to finish the entire process of ripping out my existing lawn to planting a new drought tolerant/California native garden. (They give you twelve weeks to get it all done.) Yesterday the planting stage began, which was very exciting.
November 12, 2014, Veteran's Day. Front yard is a blank canvas. Entire front yard grass, including the parkway had been ripped out and about four inches of soil removed.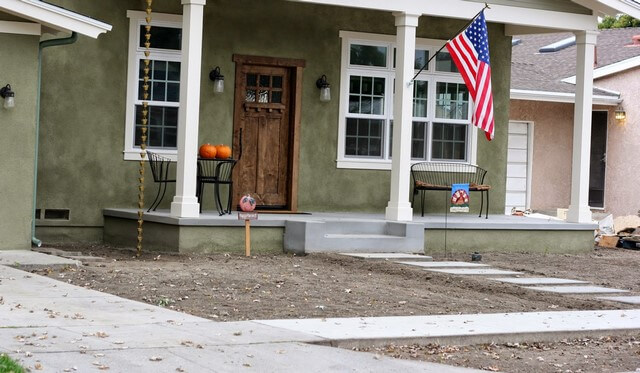 Can you see the rain chain just left of the porch?
November 29, 2014. Rock has been delivered and work has begun on the dry riverbed that will start at my north side gate and meander toward an Olive tree that will be centered in front section of my yard.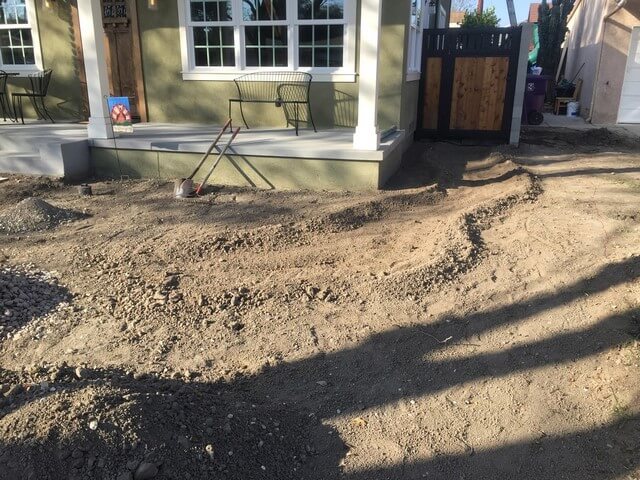 After laying down landscaping fabric, different sized rocks are being added to the dry riverbed. This is a work in progress as the goal is to make it look natural, not perfect. Various plants will go in along the edges of the dry riverbed.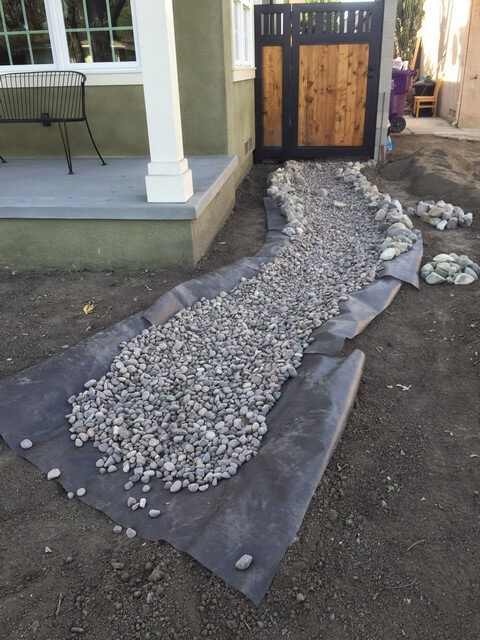 Between the garage and the porch is a dead area - with little sunlight the only thing this area grows is moss,etc., as all three roof lines bring water into this area when it rains. It's an ugly spot now but will be will be camouflaged once plants are added just in front of it.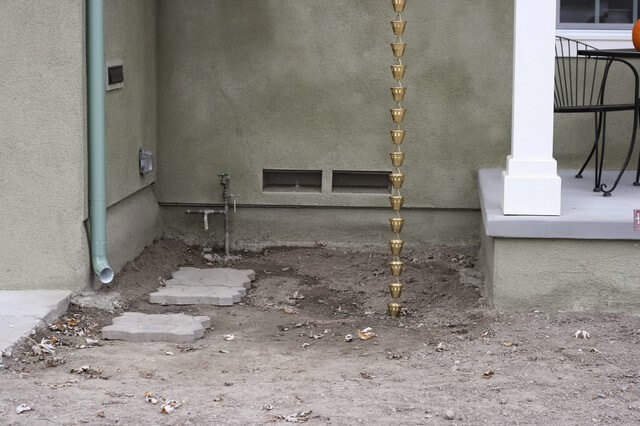 Because of downspout and rain chain, french drains needed to be dug in order to bring the water away from the house. A ton of work but now it looks presentable with rock and a little fountain.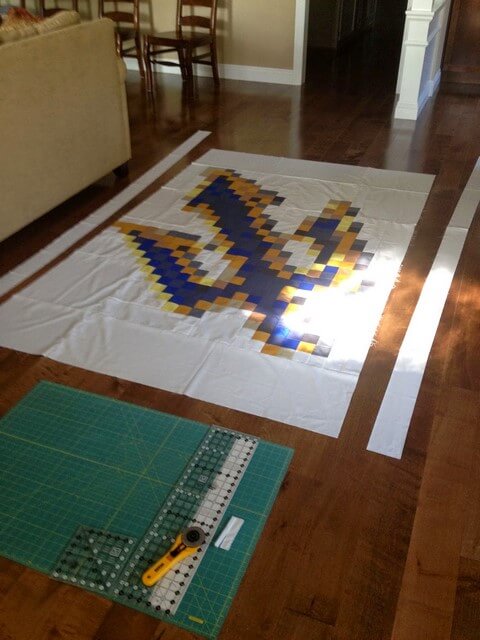 December 13, 2014. I've done more work to my dry riverbed and now it's time to plant the Olive tree. Didn't expect to come home with an Olive tree after a visit to Village Nursery in Huntington Beach, CA yesterday, but it was the perfect tree.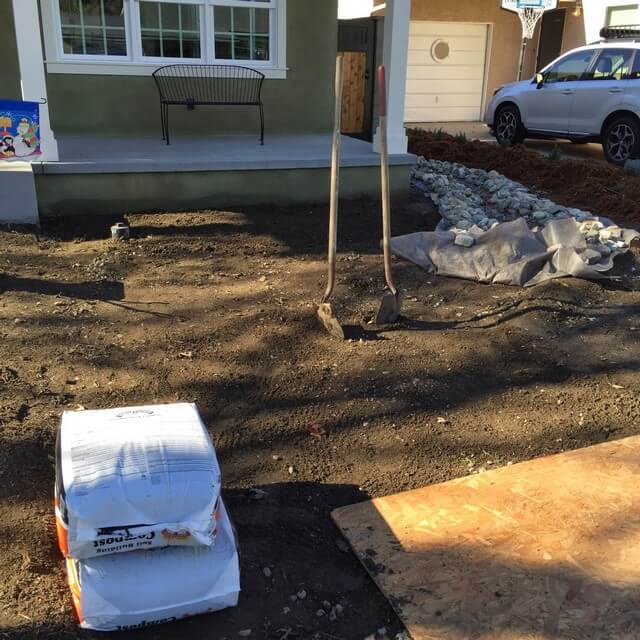 Have I told you yet how sick of dirt I am? Especially when it's wet?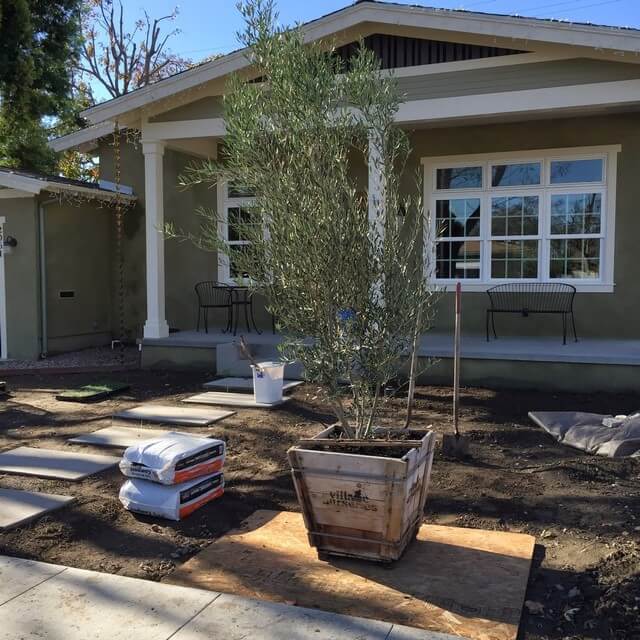 After digging the largest hole ever (many jokes were made about who could be buried in that hole), the Olive tree went in.
This is what it looks like right now.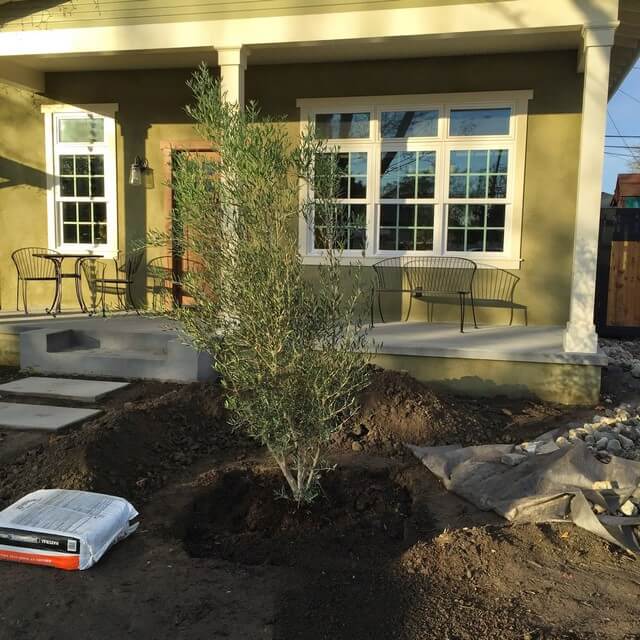 I love my new tree!
This photo is taken on my neighbor's driveway. They are also participating in the Lawn to Garden program and finished yesterday with the delivery of Gorilla Hair mulch (it doesn't stay red for long). Once I am done planting, I will use the same mulch.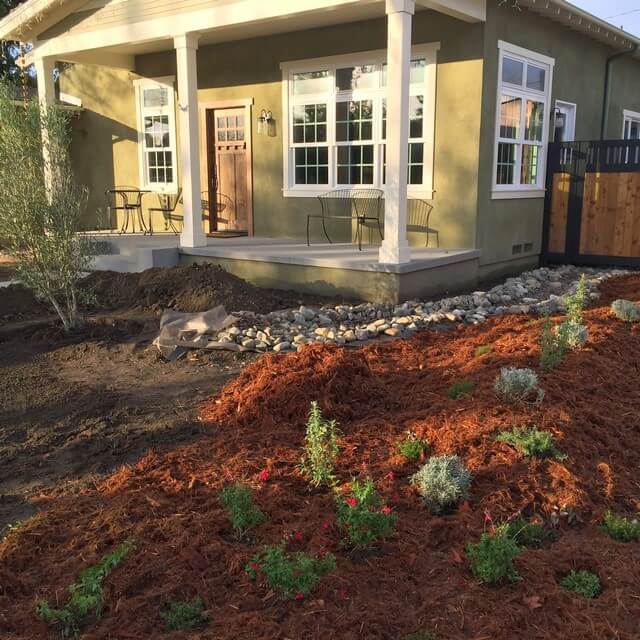 And now for my Giveaway Day Winner - I had the BEST comments this week from those who entered my Giveaway Day post on Monday. I asked those who entered to tell me where they would go and why if they could travel into the past. I'll be talking about the comments in my next podcast episode as those who entered had wonderful thoughts as to where they would go and why.
I couldn't help but choose Barb N's comment for my winner this time. Not an easy question for me to answer as a Historian, but this time of year has me thinking especially of my own mother. Barb said:
Oh, what an easy question! If I could project myself into the past, I think I'd like to be a fly on that wall and see my mother again. Watch her as a child growing up. And falling in love. Having babies. Decorating the Christmas tree. Maybe have her give me a hug again. Yep, easy question.
Congratulations to Barb!
I'm off to dig in the dirt again, Happy Sunday to all,
Susan