I generally do not like to eat meat that is attached to bones and I have no idea why. After two months in India back in my late teens, eating with my hands had become second nature to me so I think my aversion to eating foods with bones attached has more to do with what is on the bones. I gravitate toward more of a seafood/pasta/vegetable kind of diet but will not say no to a really good hamburger (In-N-Out fits that bill) every now and then. I eat a little bit of chicken....boneless chicken, thank you very much.
So after all that, how did I come to fall in love with ribs? Ribs are bones and meat! It's
Sunset Magazine
's fault. Their August 2009 issue had an article about a "
backyard ribfest
" and I was so intrigued with the Spicy/Sweet ribs featured in the article that I had to give them a try. Click on the link above and it will take you directly to the original article with three different ribs recipes.
The
Grilled Baby Back Ribs with Sticky Brown Sugar Glaze
featured in
Sunset Magazine
are the ribs that I fell in love with. The whole family loves them and although the youngest member in the house is sporting a mouthful of braces, a fork substitutes just fine to tear the meat off the bones. Follow along as I show you how I make Grilled Baby Back Ribs with Sticky Brown Sugar Glaze:
I start with a three rack package of ribs that I purchase at Costco: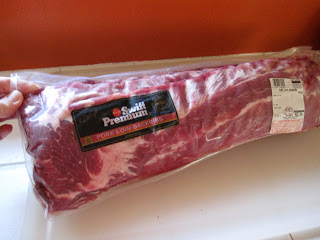 Put on my plastic gloves, open the package, rinse off the blood and place the rib racks on a large cutting board: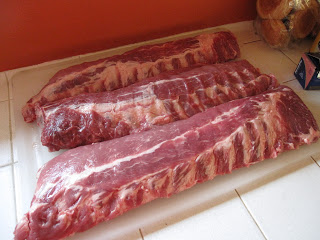 Mix up Kosher Salt, Black Pepper and Cayenne Pepper and sprinkle over both sides of the racks:
Tear off two large pieces of aluminum foil (longer than your rib racks) and fold them together a few times width wise. Then place one rack inside this large piece of foil: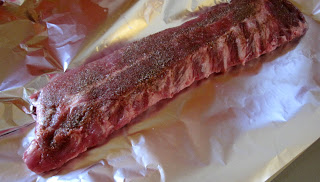 Fold together the foil lengthwise and roll up the ends until the rib rack is wrapped up snug. Place the aluminum foil rib racks on the BBQ that is about 300-350 degrees over indirect heat: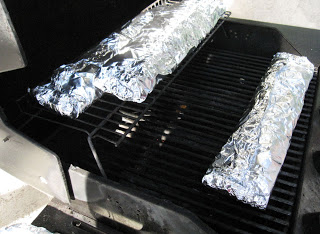 Set the timer for 60 minutes and go do something fun: sew up another quilt block or research your latest podcast topic for example. haha Come back and open up the rib packs to find: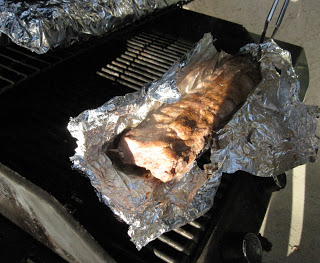 Rib goodness...but they are not done yet. I'm told the smell is to die for when the aluminum foil is ripped open...ahh my life with anosmia. Grab your Brown Sugar/Cider Vinegar/Dry Mustard/Red Pepper Flake mixture and start rubbing the mixture on.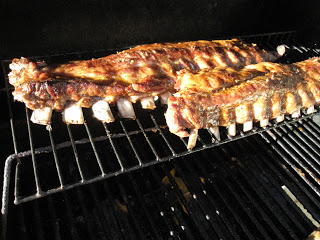 After rubbing the first side, cook for 10 minutes, then turn. Rub another coat of the mixture on, cook another 10 minutes and then turn one final time. They key to their doneness is the rib meat starts to pull away from the bones. When you see that - they are done. Basically you will turn three times with a total cook time of 30 minutes after the ribs come out of the aluminum foil packet and then you have this: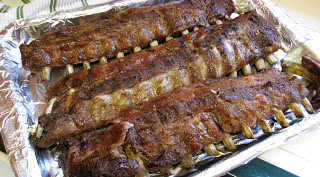 Bring them in to your cutting board and slice away: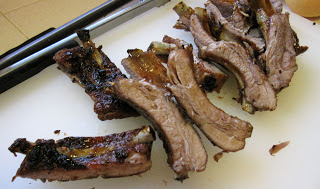 I love the mix of the spicy from the Cayenne Pepper in the rub and the Red Pepper flakes in the glaze combined with the sweetness of the brown sugar. The basic steps in this recipe could be modified to any taste whether it be a BBQ sauce lover or a basic S&P kind of rib fan. Cooking the ribs in the aluminum foil packet for an hour with only S&P and then using a BBQ sauce of choice, would equally translate into wonderful ribs.
I serve these ribs up with homegrown sliced tomatoes, baked potatoes and focaccia. I've made these maybe ten times since I discovered them and still catch myself as I hold up a rib and tear into it with my teeth....and laugh. One of these days I'm going to try beef ribs.
Bon Appetit,
Susan