If you are looking for my giveaway in honor of Sandy from the Quilting For The Rest of Us 2nd Podcastaversary, please go
here
. The giveaway will be open until Friday, April 6th at 6pm Pacific time.
I don't have a specific purpose in mind for today's post other than to share with you all what I've been up to the past few days...
First I'll start with a new-to-me Quilt Shop located in Los Angeles that I visited this past Saturday.
Sew Modern
is (to me) the perfect quilt fabric store located in an area I don't frequent often but now that I know they are there, I have a feeling I will be getting to know the area quite well.
Sew Modern 10921 W. Pico Blvd Los Angeles CA 90064
Why do I think it is a perfect quilt fabric store: The store wasn't cutsey or huge, the store owner was wearing a darling dress made of an Anna Maria Horner Loulouthi pattern (instantly liked her....), the large wall of Kona solids and flannels and there were very creative modern quilts punctuating the walls all around. I recognized many popular quilting fabrics - so fun to see them in person and to compare in my mind how much they differ from my computer screen image. I enjoyed browsing but only purchased the Kona grey flannel backing and black cotton binding I need for the T-Shirt Quilt. Excited to have Sew Modern on my radar...I'll be back.
My boy had a birthday and I made him these:
Fourteen pancakes for the 14 yr old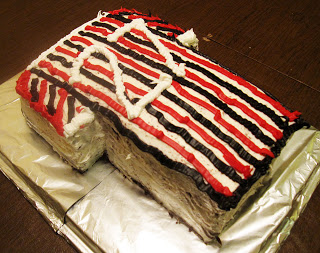 AC Milan cake
A big thank you to those of you who reached out with quilt block help on Monday in regards to the Box Kite block below. Several of you mentioned the size of my template and so I went back to compare what I had printed out with the size in the book and you were right, it was way off. A trip to the local copy place today will allow me to start again.....I am determined to conquer this block.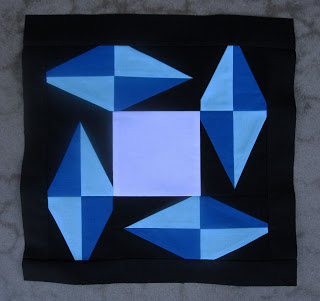 Box Kite by Angela Pingel from 99 Modern Blocks
Lastly, I want to share something wonderful I did yesterday - I got up in front a room full of 10th graders and taught! I'm observing in a 10th grade World History class and yesterday when I arrived at 7:55am, I found a substitute in place of the instructor. The plan was for the students to watch a 90 minute movie about WWII and fill in a graphic organizer with data that they learned throughout the movie. In a split second, after conferring with the substitute, I decided to stay and try to bring to life what they were watching in this movie. I paused the movie approximately five times and briefly attempted to link what they had just viewed to their world, fielded comments and questions and tried to illuminate with a map where these events were happening in the world. The best result: a student told me I was ENGAGING....for me, there is no higher compliment.
No sewing/quilting for a few days as I'm knee deep in writing 8th Grade California Gold Rush Lesson plans and studying for two midterms next week. So much to do....need to make more time.
Hope you all have a great day~
Susan