Yesterday afternoon I had no interest in making dinner. Usually I make myself go into the kitchen at about 5ish to get things moving but yesterday it just wasn't there....but I did have a plan. I had a new soup recipe with all of the ingredients already purchased and ready...and all I needed to do was pull the trigger.
Guess I was just being lazy.
Finally at about 6pm I got motivated and made
Spring Minestrone with Chicken Meatballs
from the April 2012 issue of Bon Appetit. Oh my was it good. This is a light minestrone made with chicken, leeks, pasta, spinach and carrots. Instead of buying ground chicken, I ground up two chicken breasts in my food processor (just learned to do that a few years ago - how easy!) added in bread crumbs, egg, Parmesan cheese, garlic and S&P. After forming into little meatballs, I browned them in my stockpot. My 16 yr old remarked more than once how good it smelled in the house.
I then took the chicken meatballs out, added in leeks and garlic to cook for about 3 minutes, then added in the remainder of the ingredients except for the meatballs. When the pasta was almost done I added back in the meatballs to heat until the pasta was done. The recipe says to add the spinach into the stockpot but I prefer to individualize my soup portions by placing the spinach in the bottom of the bowl and then ladling in the soup on top. My boys will not touch the spinach so why waste perfectly good spinach on them?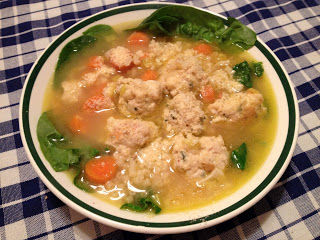 My photo: Spring Minestrone with Chicken Meatballs
I think the leeks added another dimension to this soup which made it a winner in my house.
Why can't my photo look as good as the original? (see below) I was just drooling over the cameras featured in today's BA Blog - go see their article about "
Finding The Best Camera for Food Photos
".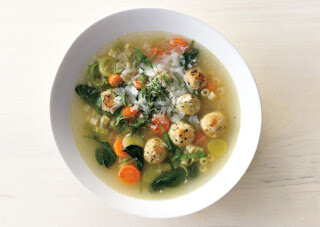 Spring Minestrone with Chicken Meatballs - Photograph by Romulo Yanes
I'm a bit late to the Table this week due to school but please go visit Debbie at her wonderful
Tuesday at the Table
feature. This week she's talking about Farro. Don't know what Farro is - all the more reason to go visit and find out.

Enjoy the rest of your Tuesday,
Susan