The following are a few of my favorite pumpkins. I grow pumpkins in my garden plot every year and this year I came out with two that were almost identical in size and weight. Makes it easier for my boys to choose who gets which one.
The various decorations around the house are just reminders to myself of the fun things that my boys have made when they were younger. I get them out every year and remind myself how small and cute they once were. Oh, they are still cute but not so small.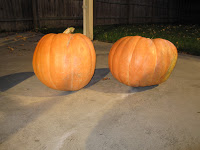 Pumpkins grown in my garden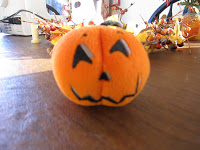 Old Navy squishy pumpkin from years ago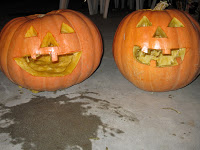 Carved Pumpkins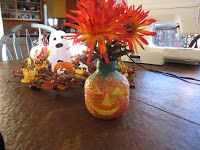 Made by my favorite older son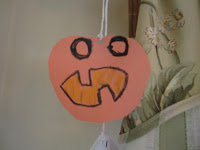 Made by my favorite younger son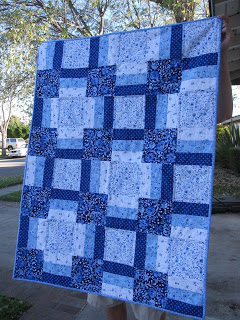 Made by my favorite younger son



I tried Dorie Greenspan's Sour Cream Pumpkin Tart this past week and I have to say that it wasn't a home run. It tasted much better when cooled and chilled the next day but I think the sour cream changed the pumpkin taste. I used the Killer Pie Crust from
The Bitchy Stitcher
and was very happy with the crust results. Check out her blog - she is a hoot.
All this talk about pumpkin makes me yearn for a Godiva Pumpkin Truffle. I think I have one left in the pantry!