Yesterday was the 1st year anniversary of The History Quilter Podcast and it seems impossible how fast a year can go by. My first episode took me about 10 hours to record, edit and upload but once done, I was thrilled at what I had created. Those first few episodes are pretty rusty but were great learning experiences - I guess each episode is a photo of myself taken at a different angle, each worthy of a view. Enough with the introspection....Episode 20 is now available on
iTunes
and
Podbean
.
My quilt history topic was inspired by Coral, a listener from Australia who email me about two weeks ago with her suggestion of researching the myth of convict women who were making quilts while on ships bound for Australia from England. With limited time to search I did find The Rajah Quilt: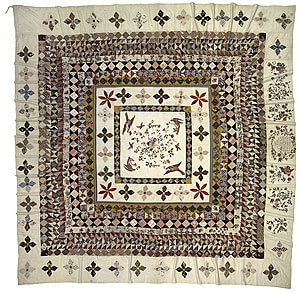 The Rajah Quilt 10'x11' housed at the National Gallery of Australia
Here's a brief history of The Rajah Quilt if you're not a podcast listener: The Rajah Quilt was made by convict women whom were on board The Rajah in 1841 as it traveled from Woolwich, England to Hobart, Tasmania. A group called the British Ladies Society for Promoting the Reformation of Female Prisoners (began by
Elizabeth Fry
) supplied the convict women on the ship with the following provisions for their travels: tape, pins, 100 needles, four balls of white sewing cotton thread, a ball each of black, red and blue thread, black wool, 24 hanks of colored thread, a thimble (only one?) scissors and two pounds of patchwork pieces - almost 10 meters. The quilt finished at 10' x 11' and apparently the individual kinds of stitches based on the level of proficiency with sewing can be seen especially with those with blood stains due to pricked fingers.
Once the ship arrived in Hobart, Tasmania the quilt was given to the the Lieutenant Governor's wife, Lady Jane Franklin but is now housed at
The National Gallery of Australia
in Canberra.
Links to the recipes I spoke about:
Thank you to everyone who has been listening along this past year and I look forward to what the next year brings to The History Quilter Podcast. If you have any suggestions about future quilt history topics please comment or send me an email at
historyquilter@gmail.com
.
Please come back here on Saturday to see a wrap up of the
Road to California
Quilt Show I will be attending tomorrow. I'm looking forward to both walking the vendor isles looking for fabric/goodies but also to see the quilts on display - the Showcase sections include Art Quilts, Traditional Quilts, Innovative Quilts, Pieced, Applique, Mixed, Other and Wearable Art and I hope to post a number of photos here with examples of each.
Enjoy your Thursday~
Susan