I finished my first block last night for the quilt along that I am participating in, and I just LOVE it. I danced around the house showing it to my people and of course, since they are all of the male species, I received nothing more than a tepid "oh, cool". Ahh the frustration to be the only female in a household!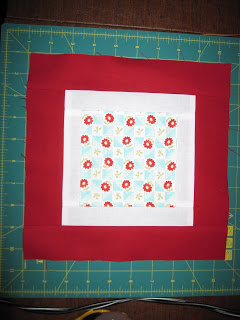 Sorry about the quality of the photo. One of these days I will do some research to figure out to take better photos to publish online. Three full blocks are done but I do have the rest of the charm squares outlined in the white. I've got to get back to the books so finishing the rest up with the red will have to wait until Friday.
Off to make Clam Chowder with Sourdough Bread for dinner. It is actually cold here (ok, cold for us - don't laugh!) so soup just feels right.
Ciao!