The whole family is around and originally I was not going to post anything, but now that I have 9 followers (sorry to sound like a 12 year old girl but...OMG!) I thought I would put this out there for someone to give me an opinion on.
It is time for new dishes in this household. We've been using the Mikasa White French Countryside dishes for almost 19 years now and they are coming to the end of their lifetime. Broken/cracked/stained and just ugly. When we "registered" for these during our engagement they were all the rage and back then I never thought I would hate a huge white plate when I was "plating" a dish for dinner. Well I do now.
I'm considering Fiestaware. If you check out a few of my older blog posts you will see that the husband has been painting the kitchen and we are keeping some of the doors off to...
1. The husband will take three years to paint them so why not.
2. It is nice to not have to open a door to get out dishes.
3. Gives me more tiny reason to ditch the white and go with COLOR!
So, do any of you have Fiestaware? I have not seen it in person/held it, etc., and only seen it on online. Do you like it? Do you love it? Does it go from oven to dishwasher to microwave like they say it does?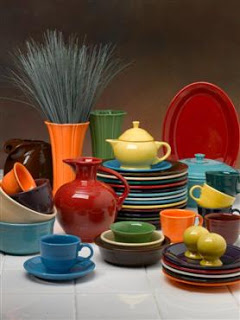 Thank you for your thoughts! I'm off to the soccer field to watch my older boy play. :)