Falling in love with fabric is new to me. I have been a casual sewer with the yearly Halloween costume making responsibility combined with the hemming/mending clothes task for most of my adult life. Last year I made myself a dress which could have opened my world and yet it did not because my dress ended up looking
exactly
like the dress on the front of the pattern.
What made this fabric fascination emerge? A small paragraph in Martha Stewart Living Magazine last June regarding a bag pattern (Tanya Whelan for Grand Revival - Practical Bag) that you could sew. The link sent me to
http://www.fatquartershop.com
/ and there I became hooked.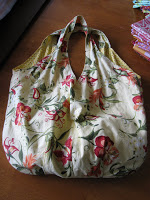 I bought the pattern from FQS but went to my local Joann store to purchase fabric. Ok, that was a stretch to pick out two fabrics in which I thought coordinated! I love the bag and have made a few more for friends and relatives. (photo is of my current bag - this bag is truly yellow but you wouldn't know it with the gray tone to it.)
So now I am starting to grow my own fabric stash full of colors I never thought I would ever be interested in. 1930's Retro fabrics, the gorgeous warm palate of Anna Maria Horner's collections, etc., I could go on. What am I going to do with these fabrics? I have NO idea!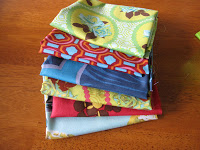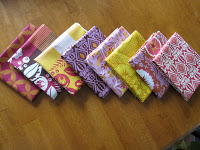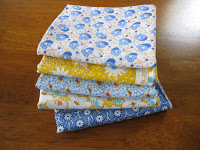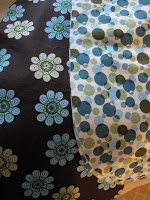 I am looking forward to many more years of creating wonderful clothes, quilts, totes, etc., for myself, friends and family!
Ciao!
P.S. The fabric to the right is for a bag I will make for my sister-in-law who turns the big 40 in a few weeks.