warning... not crafty in the slightest
Seven years ago today my mother left this earth without warning and I was left heartbroken. If one could see inside another person you would have seen my heart cracked, listing over to the side with barely a pulse as the shock of her passing stilled my soul. I have never blogged or posted on Facebook my thoughts about her passing as the timing never felt right but somehow it does now.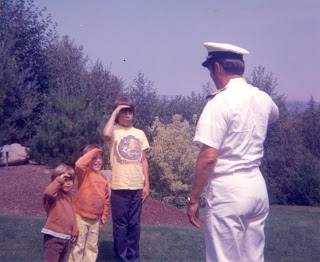 Scott, Steve, me and my mother. Don't you just dig the shag carpet?
My mother was truly a natural at being a mother. She gave birth to my older brother when she was 30 and then suffered through almost seven years of difficulty getting pregnant. My parents then chose to do one of the most unselfish acts one can by adopting me at birth. The resulting happiness and contentment with two children soon led to her giving birth to my younger brother at age 39. One of the most amazing things about her was although she was raising us in her 40's and 50's, one could never tell she was about 10 years older than all the other mom's.
My mother loved to read, as I do and I remember many times in the couch above where she and I would be reading silently next to each other, content. She taught me to cook: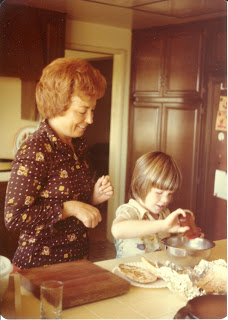 Think I'm about six...
I so enjoyed cooking with my mother and miss the recipe exchanges and cooking knowledge she would share with me. My mother's cookbooks and recipe box are some of the most cherished items I have. She was a copious note taker - those notes, recipe 2X/4X's, etc., are completely her and I will treasure them forever.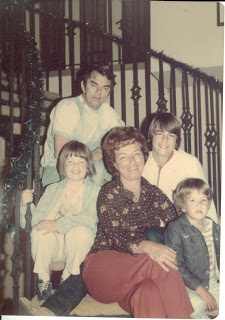 Love the eyebrows on my dad!
I have no photos to prove it, but my mother was an excellent seamstress. I have no quilting background in my family but my mother could sew anything; Halloween costumes, professional looking chair cushions, drapes for the living room, dresses for me (wasn't a huge fan of that at the time) and any kind of alteration needed. I didn't take up sewing in earnest or any kind of quilting until after she passed, but I do use some of her sewing tools today. It is hard to give up things that she used.
The strangest thing about her passing is that it was the catalyst to many of the things I have done in these seven years. I realized after the initial five months or so of shock/sadness that she would want me to be happy and to pursue all of my dreams. I just wish that she could have been here to see all that I have accomplished and to see how her six grandchildren have grown.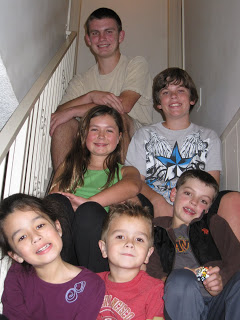 My mother's six grandchildren
If your mother is still with you
today
, and if you feel the way I do about my mother, let her know.
Susan