Back in HQ Episode #5 I spoke about the Works Progress Administration (WPA) and the rich oral histories recorded by women in Mississippi from 1936-1940. In some of those oral histories the women spoke about going to Quilting Parties:
Did you ever hear about quilting parties? We used to have quilting parties at least twice a year. One time we would meet at one house and one time at another; you'd keep on that way until the quilt was finished.... Well, say there'd be three or four ladies who were good friends. If I was making the quilt, I'd set up the frame (quilting frame) in my house and the other two or three ladies would come to my house and spend the day quilting. I'd have it all ready for the quilting to start ...
Mrs. Mayme Reese September 21, 1938 New York City, New York .
I remember the quilting parties in our neighborhood. When the crops were laid by in the summer, quilting parties would begin, and they were held at different plantation homes in the community until late in the fall of the year.
Kate Flenniken October 10, 1940 Winnsboro, South Carolina.
Yesterday, I had the privilege of going to my first quilting party and I enjoyed every minute of it.
A little backstory here:
My family and I moved to Southern California when I was five and Dionne was one of my first friends. Through the benefits of Facebook, Dionne (whom I have always regarded as the truest of friends) and I have been able to connect as adults and about a week ago she asked me for help regarding making a few Memorial Quilts in honor of her father, who recently passed away. Yesterday I arrived at Dionne's parents house (memories of our childhood just flooded over me at every turn) to help her Mother, Dionne, Dionne's sisters Candace and Holly and Dionne's daughter Clara start the process of making Memorial Quilts in honor of Dionne's father. Our fabric was to be his shirts.
After careful consideration of where to work, what kind and size of Memorial Quilts they wanted to make and the type of fabric of the shirts they wanted to use (no rayon, linen, silk...only cotton), we got to work cutting up the shirts: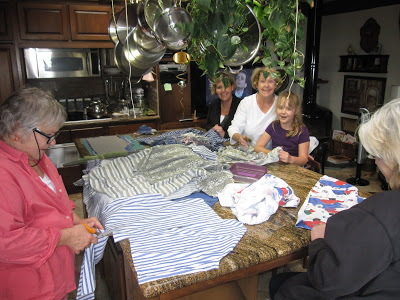 L-R: Candace, Dionne, Jeanette, Clara and Holly
For the next hour or so everyone (including a great job by Clara) worked on de-constructing shirts to make them easier to cut into blocks. I worked on cutting those de-constructed parts into 5" Blocks and yes, managed to cut myself (
what a surprise
) but kept from bleeding on the all important fabric.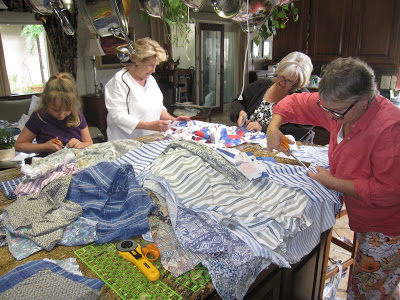 Although we only worked on cutting up shirts and creating blocks, it felt like a true Quilting Party to me and I plan on joining them again soon to start sewing those blocks into six lap sized Memorial Quilts in honor of the patriarch of the family. I had such a good time getting to know Dionne's daughter and sisters as I always enjoy meeting new people and figuring out their personalities.
To you Dionne ~ you are exactly the same as we were as children. Thank you so much for allowing me to help with such an important project.
Susan