My last post was a week ago. I guess I have to shelve my great idea of consistency for this year. Oh, who cares anyway - I've seen people all over crafting blogs talking about how they have already broken their fabric resolutions, etc. I need to realize that this blog is not being graded so posting about anything is ok. I so enjoy all of the seemingly hundreds of blogs I read and do not mind when the blogger posts about something that seems irrelevant to their overall blog.
Alright, so what have I been doing? Garment Sewing. Challenging but very rewarding especially when the garment actually looks like the pattern picture. I am working on turning my younger son into Michelangelo. Yea, Michelangelo. Fascinating fellow by the way - lived to be 89. No small feat now, but this was the sixteenth century! There is your history tip of the day.
Seriously now, the boy has to be Michelangelo, in costume/speech and manner by the 21st of this month. I'm the seamstress and the historian and the husband is the speech pro, so the boy should be well prepared. BTW, my older son was a Swiss Guard (guardians of the Pope at The Vatican) two years ago and yes, I also made that costume.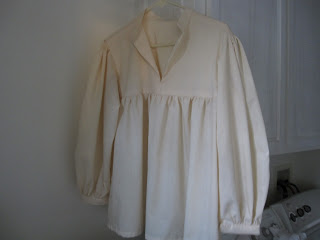 Puffy 16th century Roman Style Shirt
I can't help but call this a puffy shirt as in the Seinfeld episode from the 90's. The pants are almost finished and then I have to tackle the doublet.
In a few days I have one of those things that comes around once a year (
birthday
) and I wanted to finish this quilt in time as a present for myself, but darn did this quilt give me trouble.
(
To clarify - I could care less how old I am but unfortunately important people in my life have passed away the day before and the day of my birthday and some years I get a bit sad around this time.
)
Back to the quilt.
I tried THREE times to quilt this baby and it just does not want to be straight line quilted. I was not about to teach myself how to FMQ in a short amount of time, especially with this quilt so I decided to have someone quilt it for me. It is now all packed away and I was told to expect it back next week. Can't wait to bind it.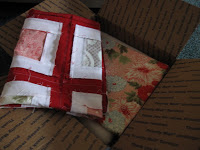 All packed up and ready for travel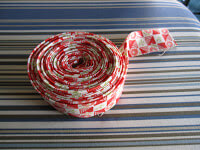 Binding all ready
Before I jump into anything new, I am working on catching up on the Designer Mystery BOM from the Fat Quarter Shop. I have the fabric from months five and six all cut out and just began sewing together pieces from block five yesterday.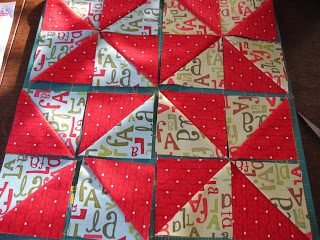 Designer Mystery BOM Month Five
Month seven is still in the envelope and month eight will be arriving any day now! Doing a BOM is a great way to learn how to piece as I have improved so much since I began month one. That first block is pretty awful and I just may use all of the extra fabric they send to do the first block over again.
I'm off to bring the older boy his trumpet that he forgot at home. What are teenage boys for anyway? HA!
Ciao!