Resolutions? Nah. Goals? Maybe. Ideas? Ah, that sounds good.
Staci over at
The Confused Quilter
had a great post about trying new things in 2011 and I would like to piggyback on her idea. According to Merriam-Webster at m-w.com, two definitions for the word idea are:
An entity (as a thought, concept, sensation, or image) actually or potentially present to consciousness.
A plan for action.
So here is my idea list for 2011. My list has taken me approximately five minutes to think up so excuse me if I come across as crazy or out of my mind.
Finish the That girl... quilt along for my birthday later this month.
Participate in the Blogger's Block-A-Palloza hosted by Quilt Dad.
Participate in Kona Your World at Gen X Quilters.
Work on my picture taking skills to enhance this blog.
Talk about gardening more! I grow a lot of food and barely mention it on here.
Join a quilt guild.
Make a quilt or two for someone I do not know - a pay it forward kind of thing.
In a few weeks I will be starting the Teaching Credential program for the Social Sciences (history, economics & government) and I am sure that this new world will bring new ideas to me.
Photo of the day: We went to the Rose Parade yesterday. What a marvel it is to see the different floats move by us. This one was not my favorite, but was pretty creative. The creators of this float were celebrating the 30th anniversary of Pac-Man. Are they trying to make us feel old?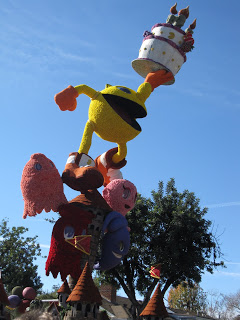 Pac-Man Float 2011 Rose Parade