Six months ago today my father passed away and for the most part I have kept this blog a place where I only share the positive of what is going on in my life. Everyone of us goes through sad and painful challenges and I believe mine are no different. Today's post is truly a selfish one for I do not expect anyone to fully understand what I am going through as everyone of us moves through grief in different paths. The need to write about this has compelled me for days so bear with me, dear reader, while I use this blog as a cathartic medium for my thoughts.
Today I am saying goodbye to my parent's house as escrow is closing and it will no longer be my responsibility. Although not the house I grew up in, this house does have special meanings to me - many that I did not fully realize until just recently.
My father and I hosted his sibling's reunion in that house. A wonderfully joyous event with Aunt's and Uncles and cousins...tons of cousins.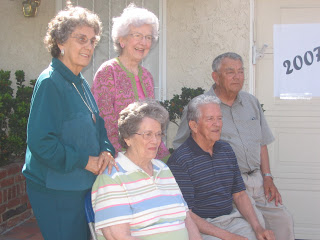 My father with his brother and three sisters.
I took my boys trick-or-treating to that house for many years.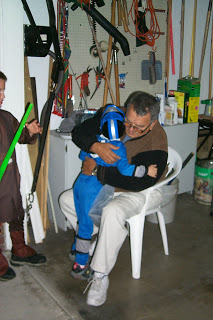 Obi Wan and a Power Ranger visited Papa in 2002
My father and I helped to take care of my mother and grieved for her when she passed, in that house.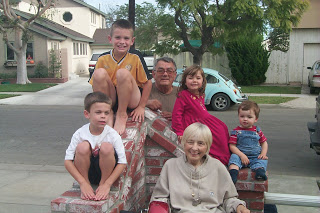 My parents with four of their grandchildren - November 2003
There are many more reasons why this house is important but those memories are all wrapped up in the furniture inside as the buyer is also purchasing most of the furniture that belonged to my parents. So many of those pieces hold memories: childhood memories of where those pieces were in the house I grew up in, memories of playing on top or under furniture and memories of being with my parents when they bought various pieces.
My father was a Navy man and proudly flew this flag outside his garage door. He would ask me to "fix it" every time we were out in the front together. I have continued to "fix it" every day since he passed and last night I took it down and brought it home with me. There were many tears as I walked though the house, left all of my keys on a table and locked the door behind me.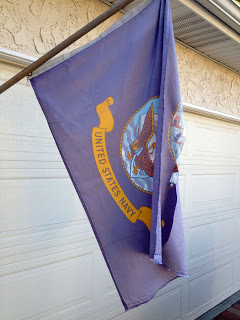 Lastly, my lovely cousin recently sent me this photo of my parents in front of the first house they ever owned together. How young and happy they look.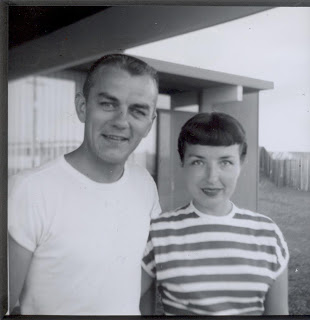 Thank you for obliging me this final goodbye. Now time for my renewal.
Susan