Hello everyone,
My days have been very full lately with a great deal of school responsibilities and some life challenges. The crafty part of me has been rather silent lately but recently I had a few chances to get out the sewing machine and flex my crafty side.
I've been working on the Varsity Quilt by Julie Herman from
Jaybird Quilts
for my younger son. I've got all of the rows sewn up and hope to sew them together and square off the edges sometime this weekend. I've got a few projects I would like to begin soon so finishing up this one for my son is the priority.
I'm now calling it "Ocean Waves" as my son loves the ocean. I plan to incorporate some sand on the back in some form or another. I attempted a photograph in my hallway, but my hallway wasn't wide enough. I attempted a photograph outside but it's so windy out right now, none of the rows would stay down. So back into my living room - not great for color but it's the best I can do. The background color is Kona Cotton Steel, which is grey...I know it looks a bit pinkish here but I promise you it is not.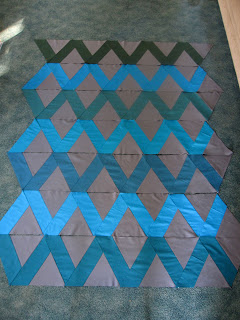 Ocean Waves - XL Twin Size
I saw a wonderful quote today that went something like this: "When I walk into my kitchen, I am not alone - I bring my mother and my father and every table I've ever sat at to enjoy a meal." Brought a couple of tears to the eyes in a heartwarming way - today would have been my mother's 81st birthday. Miss her.
In honor of my mother here is the painting my father had done of her way back in 1953 when he was stationed on the USS Columbus in the Mediterranean Sea for six months. At one point during his tour of duty, the ship docked in Istanbul, Turkey and he took the photograph of my mother to a painter. Two days later my father picked up this painting of my mother and it hung in my family home until earlier this year. Now it is mine and I love it.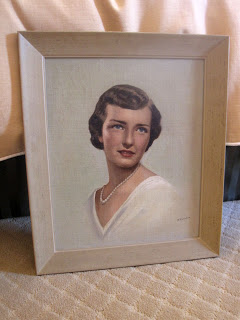 Have a safe and fun weekend,
Susan