Yesterday at about 5pm my next door neighbor brought over a package they had signed for in the morning. It was large and not very heavy but when I saw it was from Jaye, the
Artquiltmaker
,(you should be reading her blog) I was intrigued. I opened up the box and noticed two envelopes inside. One was from Jaye which instructed me to read her envelope after I had uncovered what was inside, so I proceeded to open the second envelope. Being a historian I quickly went to whom the card was from before I read the sentiment and was shocked to see it was from Melissa, Shanna and Jenna. They are:
It's so interesting the connections that are made online via twitter, blogs,and facebook, etc. I could go into the myriad of connections I have with these ladies but that would take awhile. Primarily they are twitter buddies whom have been very supportive over the past ten months.
So what was in the box?
Those lovely ladies made me a quilt in honor of my father with a modified Navy Star block pattern.
(I burst into tears at the words "Navy Star" on the card...my father was a very proud Navy man.)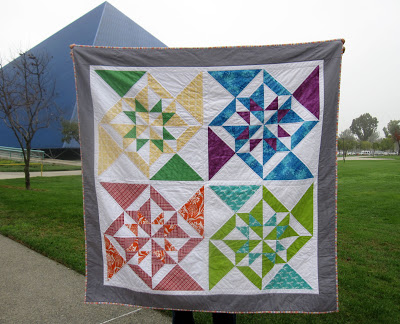 Modeled in front of the Pyramid at CSULB by a sleepy older son at 9am.
I love how each of the blocks is four blocks brought together. There is a lot going on in each block. I'm guessing that Melissa or Shanna did the echo-quilting. At 57" x 57" it is the perfect size.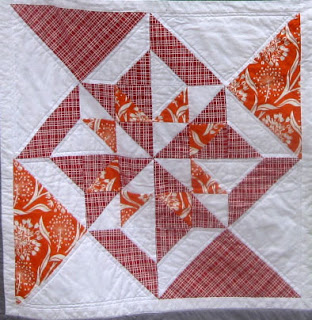 Tickertape binding - a personal favorite!
I did open Jaye's envelope and she explained how she became the intermediary postage fairy. Melissa was visiting family in Northern California and went to a recent Bay Area Modern Quilt Guild meeting that Jaye attends. Melissa knew Jaye and I had a connection and the two of them facilitated the quilt delivery to me. Thanks Jaye!

I'm humbled and feel so fortunate to have this connection with these ladies.
I've named it the Navy Quilt and will cherish it always.


Six more days of the semester and I'm home free - sewing, quilting, reading, researching, podcasting, blogging, Christmas shopping, etc., here I come...
Have a wonderful and safe Saturday,
Susan