Sometimes a one-pot meal is what I want to put on my table. Learning about dishes that can come together in one-pot is something I learned on my own in my adult years as my mother never cooked that way. Her style of cooking was firmly entrenched in the three/four elements separated by space, presented on a plate. It seemed a time when different foods were not allowed to touch either while cooking or on the plate. I remember my brother's eating up those different elements one at a time whereas I would take bites of everything without worrying about flavors "marrying" together. Jambalaya is one of those dishes where I get to taste everything together ~ no segregation of flavors or textures.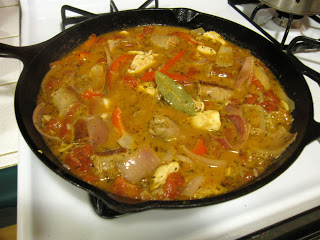 Chicken, Sausage & Shrimp Jambalaya
Two reason's why Jambalaya is so versatile: the entire meal is cooked in one dish and in my case it's a Cast Iron pan ~ my hand's down favorite pan/pot in my kitchen. If I were banished to a deserted island, my Cast Iron pan would come with me. The other reason why Jambalaya is so versatile is although everything cooks together (some parts separately at first), if someone doesn't like any one of the proteins, let's say the shrimp, that portion is left out of their bowl. Makes it easy to serve picky eaters...like my 13 year old.
There are numerous iterations of Jambalaya all over the internet, mine being from American's Test Kitchen. If you've never tried Jambalaya, go ahead and type it into your favorite search engine and start looking around.
I've been sewing a lot the last week or so which has been wonderful - yesterday morning I made the
241 Tote
by Anna Graham of
Noodlehead
that Toni had inspired me with back in early December. It is a wonderful pattern and I am thrilled at how it turned out. One bonus - it fits my iPad perfectly without lugging around a huge bag.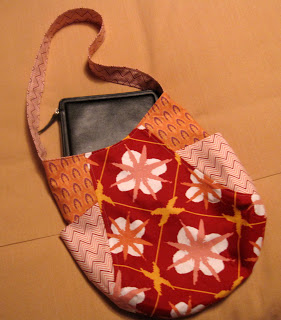 241 Tote
Spring semester begins today so I'll be filling up my backpack, queing up my iPod and walking to campus in a few hours to attend my first class. I've got two methods class this semester - a lot to sink my teeth into but I'm more than ready for the challenge.
Happy Tuesday to you all~
Susan