Happy Tuesday Everyone. After about three weeks off from classes, I'm diving back into school tonight to attend the orientation meeting for an online class I am taking for Winter Session. Winter Session - three units in three weeks. Oh my.
First up I'll show you a new bag I have started working on. Leanne from
She Can Quilt
has made a bunch of the
241 Tote's
by Anna Graham from
Noodlehead
and so I decided yesterday to purchase the pattern and cut into the fabric I purchased at Birch Fabrics, the brick & mortar store for
Fabricworm.com
while I was in Paso Robles, CA last week.
Fabrics are Boho by Annette Tatum for Free Spirit
Before I dive into the potatoes let me explain my title - if you are reading me, you must be reading Debbie from
A Quilter's Table
so my title today reflects how I want to show in my title every Tuesday how I link up to her Tuesday at the Table linky - just like a lot of us do for Lee at Freshly Pieced on Wednesday's. Debbie - you're a rock star and you deserve the mention in the title. :)
Last night for dinner I made Chicken Schnitzel, Roast Potatoes and Steamed Broccoli for the family. As I was thinking through the meal during the afternoon, I realized that the Roast Potatoes would be a perfect "tutorial" to highlight here for those whom are interested in dabbling in new kinds of cooking methods. I'm no pro - I just love to cook, so please don't judge.
Roast Potatoes
This recipe makes enough for 4 - one potato = one person so this is easy to half/double, etc.
Ingredients:
4 Russet Potatoes
Olive Oil
Kosher Salt
Pepper
425 degree oven
1 hour of your time
1. Start with four Russet Potatoes.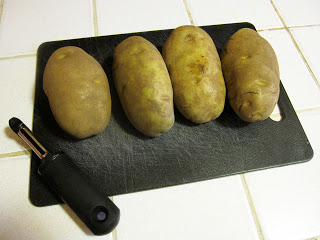 2. Use a vegetable peeler to take the skins off. Careful - don't take your own skin off.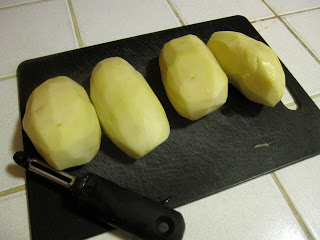 3. Cut each potato into roughly one inch slices (this is a personal preference - you could make them smaller)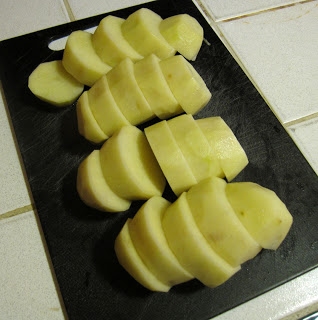 4. Put the slices into a bowl and pour about 2 tablespoons of olive oil over them and either use your hands or a spoon to coat the potatoes with the olive oil.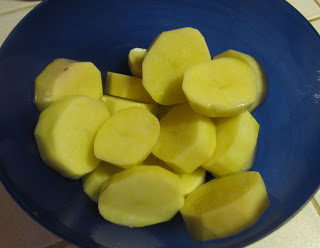 5. On a flat baking sheet lined with parchment paper (
yes, you need parchment paper
) place each potato slice onto the sheet. Then sprinkle with salt and pepper.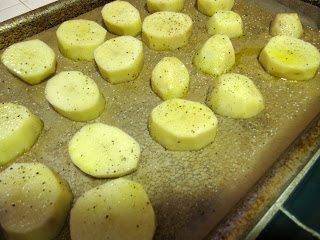 6. Place in your oven for about 30 minutes. Set your timer. When the timer goes off the bottoms should look like this: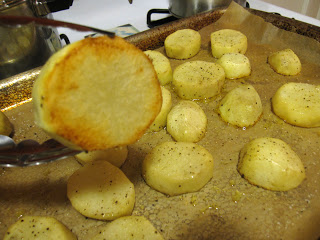 Nice crispy crust on the bottom
7. Turn all of the potato slices over and put the sheet back into the oven for about another 25-30 minutes. When done each side should have a nice crispy crust and the inside will be very hot but fluffy and almost creamy in texture.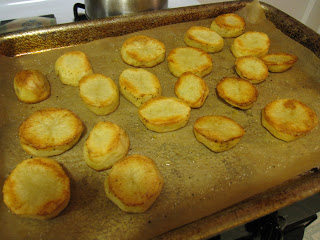 8. Serve with an entree and a vegetable and you've got a meal full of different textures and flavors which should (hopefully) please everyone.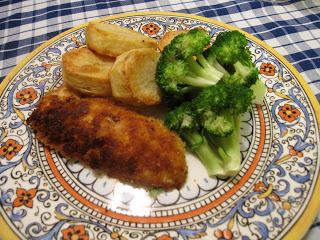 Chicken Schnitzel, Roast Potatoes & Steamed Broccoli
I'm linking up with Debbie for her
Tuesday at the Table
feature - please visit her to see what she had to say about Root Beer.
Let me know if you make Roast Potatoes and what you thought of it - and please don't hesitate to ask questions.
Enjoy your Tuesday,
Susan