The last five days have been so consumed with life and school that zero crafting has occurred in my house. Actually I haven't even felt like crafting which is surprising but thankfully the Creative Grids 60 degree ruler I purchased online to use with the Varsity pattern by Jaybird Quilts arrived late yesterday afternoon. I'm looking forward to start the work on this quilt with my younger son very soon.
Curious as to what I'm doing in school now? (Even if you are not I'll share it anyway for my own future self when I come back someday to read what I was up to.) Studying the historiography of World History, writing lesson plans about Ancient Rome, Curriculum Mapping for the entire 6th grade year, and working to get my Student Teaching application all ready to turn in by Monday, October 1st. A very important deadline filled with stress as I am supposed to choose where I want to student teach in the Spring. The best possible outcome would be to student teach at a school where the possibility of getting hired for Fall 2013 is very high but unfortunately there is no way to predict that. The thought of working all of these years on my degree, making it through the credential program and student teaching and ultimately not being able to find a job is almost horrifying to me right now.
Wow - didn't expect to go there. Bear with me reader - a lot of emotions are swirling right now.
OK switching back to crafting now.... I want to start quilting the Sea Glass Quilt but I'm having trouble figuring out which color thread to use. The solid sashing around the blocks is Kona Celery and I want to use Aurifil thread but when I put the Aurifil thread chart up to the quilt top nothing jumps out at me. Have any suggestions? Just for clarification - I do not expect you to be able to color match this from a photo - if you have used Kona Celery and have Aurifil thread suggestions, please let me know.
Last thing I'll share today is last night my younger son ran in his first track meet for his high school. So proud of him as in the 95+ degree heat (It is our turn to melt right now in Southern California) at 5:30pm last night he ran his best 5K time ever.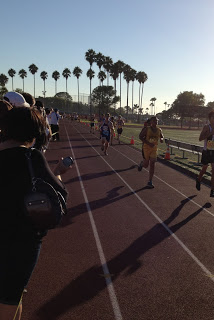 Loved cheering him on down the stretch to the finish line.
Thank you for reading and enjoy your Saturday,
Susan