Tonight in class 45% of my grade is due...45%. Three different assignments of varying importance : a Unit Curriculum Map, a Lesson Plan and a presentation of the Lesson Plan. Putting so many things on the line, due at the same time seems such a gamble, such a risk, that it makes me realize that this is something that I will not do when I become a teacher. Okay so maybe it's acceptable in college but certainly not for middle or high school students.
So with so much schoolwork on the line my sewing machine continues to sit in my closet, waiting for me - no,
calling to me
to bring her out to finish up projects, create new ones and calm the nerves that have descended upon me. My Christmas list is starting to grow...gotta finish this...gotta start this..she would love this, etc.
So what do I do when I'm stressed? My usual form of coping is cooking and so last night I rewarded myself and everyone in the house by cooking again. After all the craftiness in the kitchen on Thursday and days upon days of leftovers...note to self -
don't make so much darn food next time
- I got back into my kitchen to rustle up something new.
With a bushel full of Lemons I harvested on Saturday as my inspiration I made Lemon and Oregano-Rubbed Chicken Paillards from Cooking Light Magazine. The recipe is all over the internet so I won't list it here - go
here
for the recipe. The meal turned out delicious and was very easy to make and I even made a little bit extra for chicken salad sandwiches for the kids for their school lunches. Served with rice, lemon wedges, tomato slices from my garden and fresh bread, it was a successful start to another week of cooking.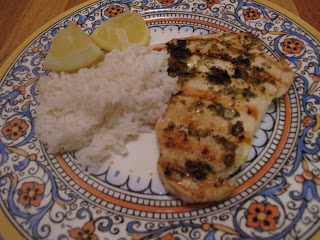 Please visit Debbie @
Tuesdays at the Table
to see what others are have cooked up this week...I already see that
Toni
made Pretzel Bread.
Although a presentation is looming tonight, it's Tuesday - my favorite day of the week.
Hope you enjoy yours...
Susan