This past Sunday the In-Law's were over to celebrate a birthday and as they are a fun group to cook for (will try anything) I decided to try a new appetizer by making bruschetta with tomatoes from my garden.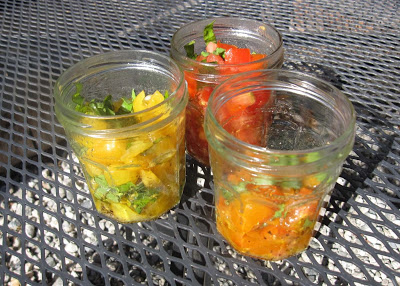 Yellow Pear, Early Girl & Sungold Tomato mixture
I have three different colors of tomatoes out in my garden so I thought it would be visually appealing to use all three plus the contrast in taste between the three would be enjoyable. The orange sungold's taste like candy - which by the way are my favorite which is why there isn't as much Sungold mixture in the top photo, the yellow pear's are more savory and the red Early Girl's taste like, um...tomatoes.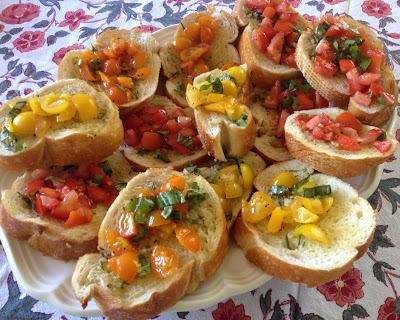 Bruschetta Three Ways
The recipe called for a olive oil, minced garlic clove, fresh black pepper, fresh rosemary and kosher salt mixture to be brushed onto the tops of the bread. I used fresh french bread instead of a day old crusty bread (usual selection for bruschetta) as that was the only thing available. Instead of a super crusty bread that is usual for bruschetta after it is grilled or baked, it was crunchy on the outside but soft on the inside. The contrast was perfect.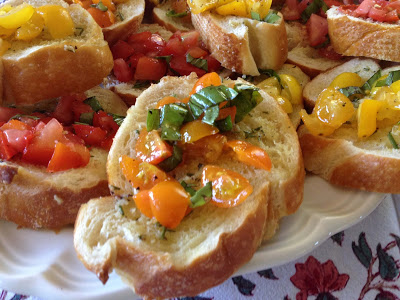 Each tomato mixture consisted of fresh basil, olive oil, fresh lemon lemon juice, kosher salt and pepper. After I baked the bread slices that had been brushed with the olive oil/rosemary, I topped each one with the tomato mixture. 5 minutes later the entire platter was gone. Success!
Enjoy your Tuesday ~ Eat Well!
Susan