Buon Natale to you all!
It's early and my house is still quiet and cold (my fingers are frozen!) so I thought I would share with you all some Christmas memories of mine.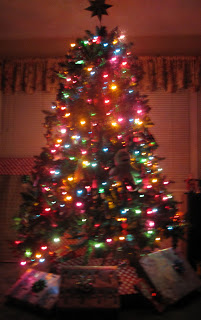 Our Christmas Tree - 2011
As an early riser I enjoy the quiet moments alone before the house arises for the day and just like I did as a child, I wake even earlier on Christmas morning.
I still remember how I would lie in bed Christmas Eve and imagine Santa & his Reindeer landing on the roof of my house and sliding down the fireplace - my room was so close to the fireplace that I was sure I heard him.
Sometimes I would even sneak into my brothers' room and wake him to tell him about hearing Santa – my excitement impossible to keep to myself.
Now with children of my own I love watching how much they enjoy the Christmas holiday. On Christmas morning they have a deal that whomever wakes up first must wake the other... something that my brother and I did. I love hearing their voices as they wake and whisper to each other as they walk into the family room to see what Santa has left them. Just as my brother and I were allowed to "open" our stockings without our parents around, my boys are too. I listen to them pull out the treasures and goodies that are inside and discuss and share what they have received. Although I'm always awake for this moment, I never go out and watch as I so enjoy just listening to them share their Christmas morning together. It's one of my favorite moments of Christmas as a parent.

On to #BDSI...what is #BDSI you ask? It's the Twitter name for the Boxing Day Sew In that is being hosted by Sandy from Quilting...for the Rest of Us, tomorrow, Monday, December 26th otherwise known as Boxing Day. Please visit Sandy's post
Boxing Day Sew I--Join the Fun!
to get all the details. Instead of shopping on the day after Christmas, stay home, preferably in your pajamas and sew! I'll be finishing up the Orange & Black quilt for my nephew that I will be giving him at approximately 3pm that day. If you are a Twitter follower (I'm HQSuz) please join me and my fellow podcasters on Twitter
tomorrow
and follow #BDSI for various giveaways being offered by my fellow quilting podcasters.
I hear stirring in the house. Time for me to finish up and enjoy the sounds of Christmas morning.
Hope you all are having a wonderful Christmas holiday.
Susan