Being very busy last week with the crush before Christmas caused me to use #BDSI (Boxing Day Sew In) on Twitter this past Monday, December 26th to finish up the Orange & Black quilt for my nephew for his Christmas present. It was not a late gift as my side of the family did not get together until Monday afternoon to accommodate everybody's holiday schedules.
As I finished the quilting, prepared the binding and then machine sewed the binding on, I tweeted along with my fellow #BDSI companions keeping me company. At one point I became super annoyed at my machine because I was getting the birds nest effect on the back and cried out for help....Jaye from
Artquiltmaker
came to my rescue by telling me to rewind my bobbin thread very
SLOWLY
. That did the trick and at approximately 5pm Monday afternoon I took a photo of this: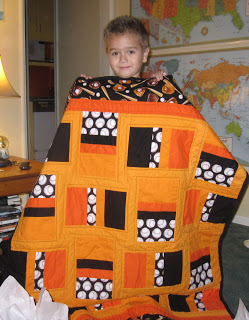 Orange & Black quilt for N.
Orange & Black
Little Man quilt pattern by
Camille Roskelley
from Simplify:Quilts for the Modern Home
Fabrics: Various Kona Solids and two baseball patterns from local fabric store.
Started: November 2011
Finished: December 26, 2011
Given to nephew for Christmas 2011
Here's the front: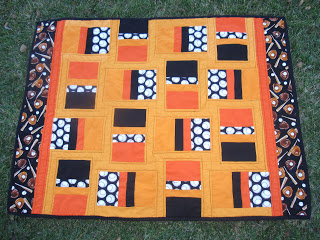 Orange & Black quilt front - 40"x 50"
And the back: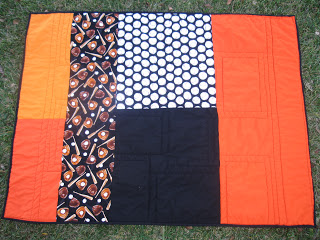 Orange & Black back
I have four nieces of various ages so I decided this year for Christmas to give them a little handmade item with a favorite gift card of their choice nestled inside. For my teenage nieces I tried a new tutorial for Lined Drawstring Bags from Jeni of
InColorOrder
. Great tute - go check it out. Both bags came together very easily and were well received by both girls. Success!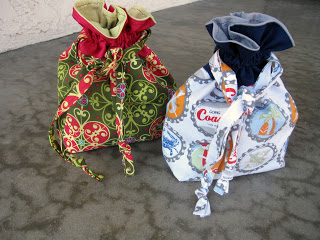 Lined Drawstring Bags
For my younger nieces I made zip pouches and they loved them. My SIL told me that the bag I made below for B. looks very similar to the new backpack that my niece had yet to open for Christmas. The pouch would be a perfect accessory to the backpack which made me happy.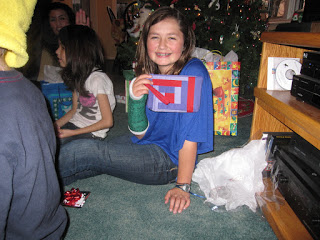 Love this girl...such a sweet kid.
So the Christmas rush of handmade is now over and now I can relax and wait for projects to appear. I did receive a text yesterday from a good friend (Sarah) who asked me to make her a Kindle Fire cover and I replied a definitive YES. Looking forward to researching tutorials and fabrics for her.
Susan