Six weeks has just flown by...so without further wait..Episode 17. Hope you enjoy!
Big shutout to Tanesha from the
Crafty Garden Mom
blog & podcast as I won a giveaway from her blog in honor of her birthday back in October. She was so generous to Fed Ex me a copy of
Modern Log Cabin Quilting: 25 Simple Quilts and Patchwork Projects
by Susan Beal after my first giveaway book was eaten up by the USPS. Thank you again Tanesha!
Please visit Susan Beal's blog at
westcoastcrafty.wordpress.com
to see how creative she is.
New quilting podcasts to me - super fun and worth a listen. You can find them on iTunes.
Lazy Daisy Quilts
hosted by Daisy.
The Quilting Pot
hosted by AJ.
New food podcasts to me.
Taste Matters
with Mitchel Davis. Note to Debbie...you will luv him. :)
A Taste of the Past
with Linda Pellacio. I've only listened to the 1st of 82 episodes.
I spoke about one handmade Christmas gift project I am about to embark on. I am going to make the Little Man quilt pattern for my nephew from
Camille Roskelley's Simplify
book for Christmas. Many different orange and black fabrics are on the design board for this quilt as he is a San Francisco Giant fan.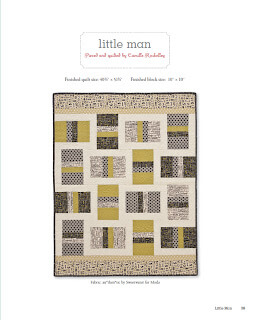 photo from www.Stashbooksblog.com
I also spoke about what I made for Thanksgiving dinner - go
here
to see what I made.
Have a great rest of your Saturday!
Susan