Lee at
Freshly Pieced
is celebrating the one year anniversary today of the WIP Wednesday link up. She surprised me this past Sunday by sending me and seven others an email thanking us for being her first to link up last year. I was honored that she asked me to be involved in her
post
about her anniversary and shocked that it had already been a year. Time sure does fly by. What was I doing a year ago?
I was bogged down in some serious history research about the Bosnian War of the 1990's. Not happy, uplifting or a feel good kind of research - not at all - but it was highly satisfying when I finished up that last 30 page research paper to cap off my Bachelor's Degree in December. And what got me through all that research misery - quilting and quilting blogs! Let's see what did I talk about on that first link up.....
Wow - cracked myself up going back and reading that first WIP Wednesday post. I had eight items on that
post
, (
go ahead and check it out and laugh...
) one of which I still have on my WIP list - the Christmas Tree Skirt fabric. Going to ditch that fabric as I am making Christmas Tree Pants. My tree is getting pants this year. LOL
WIP Wednesday list:
From left to right:
Skirt fabric for Niece, Blocks for Best Bud, Sliced Coins QT, Italian Sorbetto QT, Christmas Tree Pants fabric, School Yard QT and Christmas BOM 2010 Blocks.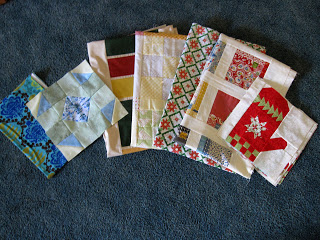 All seven in one shot - how's that for efficiency?
While looking around for all of my WIP's to get an accurate count I found a little book bag I made up a few months ago. I used Heather Baily's
Smarty Girl Book Bag
Pattern and Mezzanine fabric by Patty Young with a little bit of Nicey Jane on the ruffle. This was a very easy pattern that sewed up very fast. One of my nieces will be receiving this for Christmas.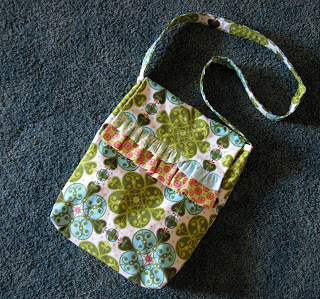 Smarty Girl Book Bag
Now for a food WIP - give me a guess as to what you think I'm cooking up in my crock pot for dinner tonight. The winner will get some.
maybe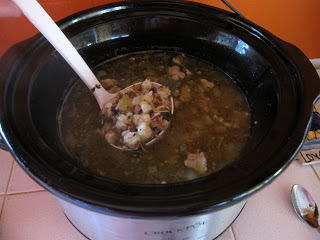 Mystery dinner
Do I need to tell you to go visit Lee at
Freshly Pieced
to see what others are linking up to this week?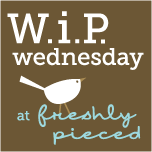 A bit chilly here in So Cal...stay warm. :)
Susan