When I first starting quilting (a whopping 10 months ago!), I
only
worked on one project at a time. I don't seem to have that problem anymore.
Lee at
Freshly Pieced
has begun a Work-in-Progress Wednesday feature that after the inventory I just did, sounds like exactly what I need to get my projects done. Thanks Lee!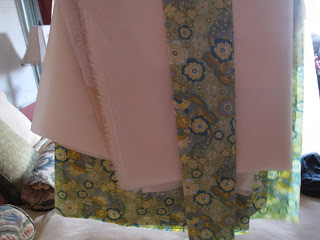 Skirt for me/Anna Maria Horner Voile
Decided to try this with the
Stop Staring and Start Sewing Essential A-Line Skirt Tutorial
back in the summer.
Just can't seem to want to finish this.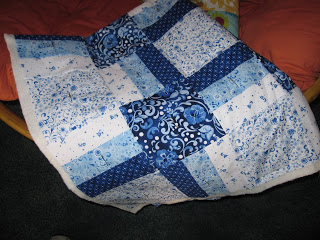 Bluebells Quilt
Will probably finish quilting this today/tomorrow and then add the binding this weekend. Need to get this in the mail by next Tuesday.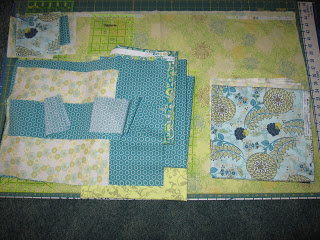 Quilt for MIL
Quilt #2 for MIL for Christmas. Remember where I changed my mind? This is the new fabric and I sure hope they work together. This will be my first attempt to create a quilt with fabrics from different lines.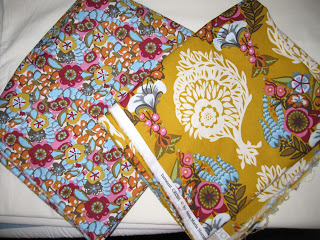 Bag for me with Innocent Crush
Can't you all tell I'm a AMH freak? I could not resist purchasing some of her new fabric for a bag for myself.
Blocks for quilt along
Why does Google turn my photo around? Makes it look like I was on the ceiling or something. Three completed blocks.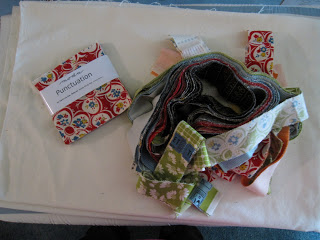 Punctuation by American Jane

Oh, those darn
Deals of the Day at the Missouri Star Quilt Co
. Couldn't resist the Punctuation Charm Pack for $2.50ish and of course I had to throw in a Honey Bun. I unraveled it so I could play with the fabric.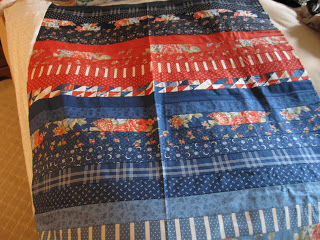 I hate this one
Truly, I do hate this quilt top, but only because I don't know what I am doing. These are jelly roll strips sewn together...should be easy, right? No. Because it is very wonky. I bought this from FQS at 40% off so it was a deal, but I can't figure out how to fix it.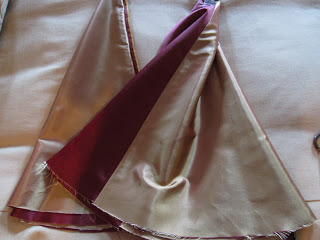 Christmas Tree Skirt
I've had this fabric for honestly, 10 years. Finally sewed both pieces during the summer and just need some decorative braid, etc. to finish it.
Now I really need to put the sewing machine and the camera away and get to my history research!