10 Weeks of Student Teaching down, 10 weeks to go.
I cannot tell you how much I have appreciated Spring Break 2013. Although technically not over yet, most of the fun has been already had as I am now focused on a major school project due Monday evening.
So what have I done with my Spring Break?
The family and I went to
Mammoth Mountain
in the High Sierras of California to ski for three glorious days. The following are photos I took with my iPhone. I am a bit disappointed right now as it looks as the majority of the photos I took on my digital Cannon camera have vanished into thin air.....
This is how I ski...mask, goggles & helmet. Most people these days wear helmets as they are required for kids in ski school or in lessons. Added bonus - keeps the ears warm! I wear a mask because my face gets so cold and keeps me from getting sunburned.
Every time I come to Mammoth I look for Woolly the Mammoth mascot skiing around the mountain. This was a great find as I had seen him a few times (on Easter he wore bunny ears!) but had not seen him up close. Usually he is skiing down the mountain under me as I fly overhead on the chairlift.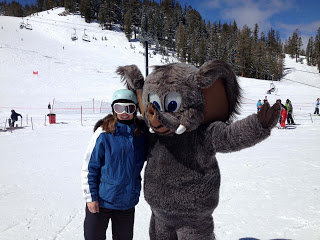 Woolly the Mammoth!
In the three decades I've been skiing at Mammoth I've never gone up Chair 23 to Cornice Bowl. I've never even thought about going up Chair 23...Cornice Bowl? No way - I can't ski that crazy black diamond run. Well this year I did. It was exhilarating and a bit scary as I'm afraid of heights - once I skied over to the top of the run after this shot was taken, I focused on looking at only the first 5 feet or so of what was in front of me and not how steep the run was.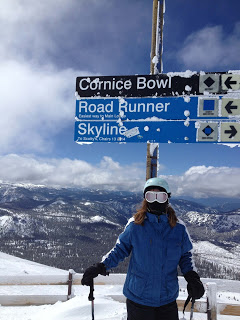 10,836 Feet : Top of Cornice Bowl
Another triumph of the trip was my older son was back in action on a snowboard after tearing his PCL in his right knee seven months ago.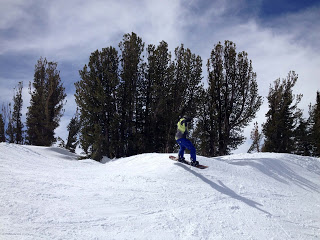 Lastly here are a few shots that I took coming up Chair 14. It was so beautiful that I couldn't resist taking a few shots with my iPhone while on the lift although I was paranoid of dropping my iPhone. I've seen many people drop gloves hats, phones off of chairlifts.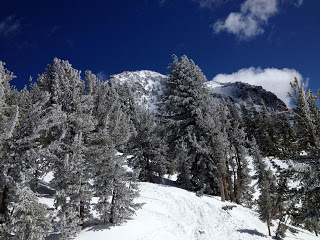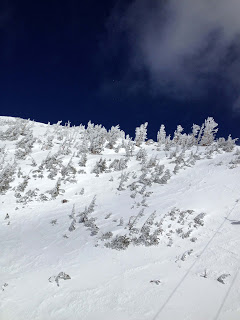 After we returned from Mammoth I pulled out my sewing machine and sewed up another
Lucky Stars BOM
from
Don't Call Me Betsy
. This is the February block called Exploding Star. I've truly enjoyed paper piecing these blocks - I just have to pay close attention to the first quadrant and the rest go well.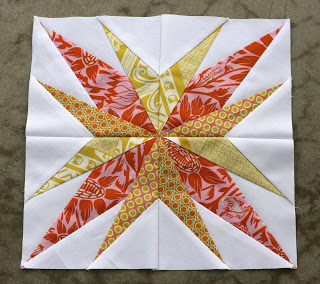 Exploding Star - Lucky Stars BOM from Don't Call Me Betsy.
I received a call while in Mammoth that the Sea Glass quilt I had dropped off with my longarmer six weeks or so ago was done. She did an amazing job and after I finish putting on the binding I'll have a full reveal.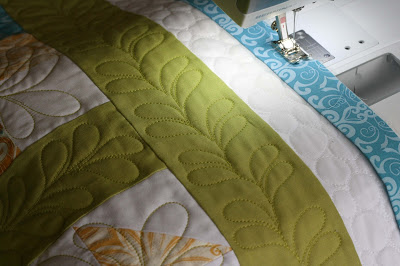 Lastly for the Spring Break fun, my youngest turned 15. He's already talking about starting driver's education so he can get his permit when he's exactly 15 1/2. Please....help me figure out how to slow down time!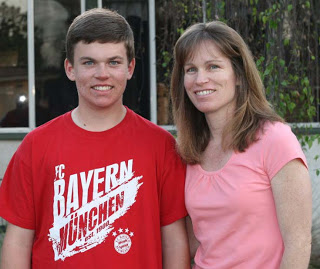 I'm off to finish that binding. Hope you all are well!
Ciao~
Susan