Last weekend I was lamenting that I was a quilter who never quilts as it has felt like forever since I had the opportunity to sew much less finish something. My trip away was the jump start I needed to get out some fabric and start cutting. Monday evening I pulled out a FQ (fat quarter) stack of
A Stitch in Color
by
Malka Dubrawsky
that I won in a giveaway from Debbie from
A Quilter's Table
way back in February and then I remembered what Debbie had recently made with the same fabric. Debbie and I both agreed that this fabric is not automatically an easy make...to me it doesn't call out for a specific project but when I saw her post in May about the potholders she had made with it, I had my muse. Please visit her post
here
for her inspiration of where she received the original idea.
Thanks Debbie!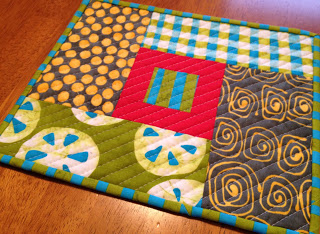 Mug Rug #1 9x11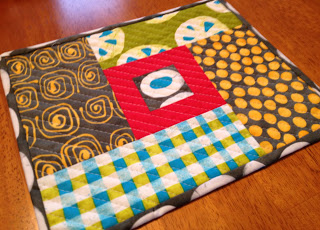 Mug Rug #2 9x11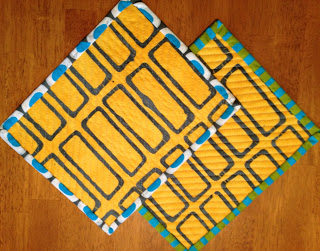 Back of both Mug Rugs
I used a new-to-me binding technique from VeryKerryBerry for a
Single Binding Tutorial
. I found it very helpful and easy to read and the binding went on super fast. I finished the last stitch of binding last night at about 11:30pm...free HBO for the weekend had me up late.
So satisfying is a finish!
If you are a podcast listener I have a request, would you please listen to the two minute test I published yesterday on
Podbean
and
iTunes
to let me know how the sound quality is? Yesterday amidst almost eight hours helping out with the 8th grade dance I ran a quick errand to pick up a new microphone.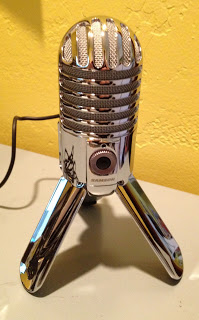 My new microphone
Off to conquer the day...hope you all have a great Saturday,
Susan