I have wanted to make the Multi-Tasker Tote from Anna Maria Horner for almost a year now. With Holiday gifts done, I was able to make some great headway just after Christmas and then finally finished the bag today.
First thing I learned - this bag is BIG! I have to learn to look at finished measurements to get an idea of how big what I am intending to make really is. This sounds dumb but I have no idea if I will actually use this bag as I hardly carry anything around. Cell phone, sunglasses, wallet and a pen - that is all I carry in my purse. Cutting this pattern in half would have worked better for me, but I do love the bag. I used Anna Maria Horner's new Innocent Crush fabric for both the exterior and interior fabrics and they were (of course) lovely to work with. I enjoyed working with the pattern (first time use of a AMH pattern) and found it relatively easy to understand - I stopped a few times and had to read and read again to truly understand what was instructed.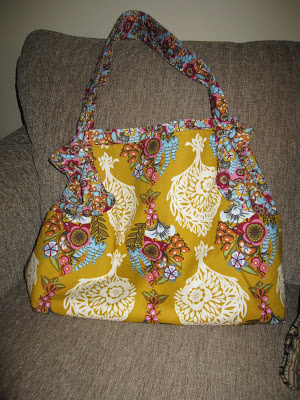 Anna Maria Horner Multi-Tasker Tote
I am linking to
Fabric Tuesday
at QuiltStory for the first time to show off my first finish of 2011!