I received a very humbling e-mail on Sunday from Mary over at
Piece Garden
telling me that she had nominated me (along with two others) for the Stylish Blogger Award.

I almost don't know what to say about this..I'm just humbled. Before I tell you more about this award go to Mary's blog at Piece Garden and check out her
Monochromatic Quilt
she just finished. GO NOW!
Alright...you've seen how amazing she is, right? Did you see the Monochromatic Quilt, the Picnic Blanket, the pillow she made back on Feb 25th? What about that darling raincoat? Did you see the Hideaway?
Yes, Mary is the one who got me started on Hideaway! I just received some in the mail yesterday and it is even cuter in person that it is on my computer screen.
Here are the details about the Stylish Blogger Award:
1. Thank and link back to the person who gave you the award.
2. Share seven things about yourself.
3. Award six recently discovered great bloggers.
Seven things: (in no particular order)
1. I'm starting to go grey but my husband hasn't noticed. LOL
2. I was adopted when I was three weeks old by the two best parents a girl could ever have.
3. Have been inside the Taj Mahal in Agra, India. Would go back again in an instant.
4. My favorite sandwich is Fresh Mozzarella Cheese, Tomato and Spinach on a crusty roll.
5. I watch The Real Housewives of OC and NJ but none of the others. Can't help it - it's like junk food for my brain.
6. I subscribe to 179 different crafty/quilting and food blogs. I have 254 unread posts right now. Eeek!
7. Sometimes I think I'm a terrible example of being a girl...I look in the mirror maybe twice a day, wear my usual blue jeans/tshirt most of my waking hours (not the same jeans/shirt!) and don't wear any makeup.
My nominations for the Stylish Blogger Award:
I have 35 Google Friends and about six more if you count those who show up on Google Reader. I feel like those bloggers are "my people" as they (YOU) have taken the time to read what I have to say so I in turn do the same. My six choices from among those 35 are:
Jenniffier's Sometimes Creative Life
. Jenniffier is a super cute fellow CA girl who makes some lovely quilts. I'm diggin her
Posh Quilt Top
right now and can't wait to see how it turns out.
Quilter in the Gap
. Just found Rhonda last week and have already enjoyed a few e-mails back and forth. She's doing Lily's Quilts QA and her
Dresden plate fabric choices
are very informative for me as I can watch along and learn. Go check out her
survey
!
Fluffy Sheep Quilting
. Cindy is blogging from Ireland and was nice enough to comment on my History Quilter podcast so I found her blog and began to follow. In her
Year of the Craft
post she shared with her readers a quilt she had made for her mother. It's gorgeous - go check it out.
The Rebel Homemaker
. Seriously Shelley is my newest gardening guru and she quilts! Check out her
Flickr
page - amazing! Did you see that Star Wars pillow?
Marilyn's Maze
. The lovely Marilyn Pond seriously lives within walking distance to me and I'm hoping in 2011 to get the chance to meet her at a Quilters by the Sea guild meeting. You might have seen her recently profiled by Sew Cal Gal with her
Two Wacky Women
quilt retreats she puts on with her friend Robin.
Becky's Blabber
. Love this gal - would have loved to have a sister like her. She is doing her best to be crafty in a houseful of males, just like me. :) Love her
Mardi Gras Quilt
and don't miss her
Medical Lab Quilt
. So cool and so creative!
Now for the WIP: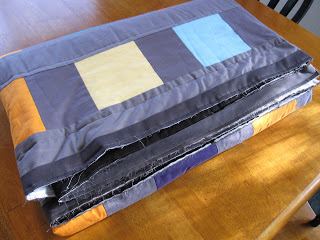 Open Windows with machine binding attached
Only going to show one...the Open Windows quilt for my son is almost done. I attached the binding on the front by machine this morning and will begin the hand stitching of the back tonight. This quilt is so big I'll have to take it to the local Laundromat to wash and dry it.
Now I've got to run and study for an Economics exam at 2pm. Wish me luck calculating GDP, but first go check out the other WIP's at Lee's
Freshly Pieced
!
Ciao!