Over the past 2 1/2 years the online quilting community has opened up a whole new world to me. Fabric, texture, color, design and movement.... Flickr, pinterest, swaps, linkys, comments....I could go on. But the most important thing that it has opened up for me is friendship. Friendship through a shared craft/hobby/art although online should not be overlooked or undervalued - the access we now have to others across the globe to enhance/learn more about our love of quilting is real.
For example there is Debbie from
A Quilter's Table
- a perfect example of an online quilt blogging friend who has slowly crept into my daily consciousness with her witty prose and her amazing creations. Although we may never meet (I sure hope we do!) in person, I so enjoy the almost instant feed back if I have a question or a photo to share with her.
Then there is Zina who I met through the Goodie Swap 2011 - she made me these for the swap: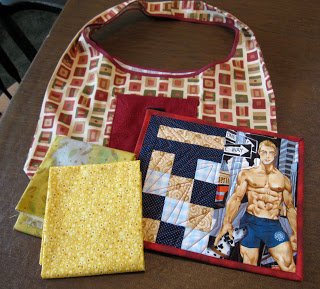 Just love that bag...I used it last night!
Well last Saturday Zina and I went to a local quilt show together and had a great time. Who knew there was another quilter approximately 1.4 miles away from me who is
normal
? I laugh at typing this as when I called her to set up what time I would pick her up I told her that I was "normal" and that she shouldn't worry...what a laugh we had in the car about that later. Thrilled to have a quilting friend so close! I see trips to M&L in our future, Zina.
My last example brings me to my best bud in my daily life. She is going through a divorce right now and one of the things she told me she wanted was a quilt for her bed as her soon to be ex never liked quilts. So now her mother and I are working on making her a quilt for her bed. Love the idea of making my best bud's life a little better with a quilt.
On to the WIP's -
what I am no longer working on: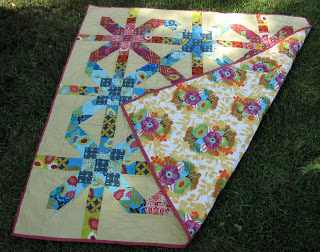 Supernova - finished
Supernova is done and folded up on my couch right now. Will probably wrap myself in it tonight after I return from Back to School night at the high school. The rain and (relative) cold we are experiencing right now make it a perfect night to wrap in a quilt.
What's next?
The T-Shirt Quilt - shirts sent to me by my cousin in Maryland. Shirts cut out and 1/2 are now backed by interfacing.
Quilt top for my Best Bud - I'm only doing 1/2 of the blocks for this quilt top and then will hand them off to her mother to finish.
Lastly, the Giveaway:
I've just hit 50 followers (actually 51 now!) so to celebrate I'm giving away a $50.00 gift certificate to the
Fat Quarter Shop
for starting me down this wonderful quilting path that my life is now on. Their ad Martha Stewart Magazine 2 1/2 years ago began my now love of quilting so they deserve all the credit/blame. :)
To enter in the giveaway please leave a comment telling me what got you started down your crafty/quilting path. Was it a family member, a friend, a magazine, a blog? You know how I got started so tell me how you did. Make sure I can get in touch with you.
*The Giveaway is now closed as of Thursday, October 13th at midnight.*
I'm linking up with Lee from
Freshly Pieced
so please go on over a check out what other's have on their WIP lists for today.
Enjoy the rest of your Wednesday,
Susan