Last night I made Shrimp Linguine with a Sun-dried Tomato Cream sauce and although I had zucchini, squash and red bell peppers on hand for a side, I didn't feel like steaming them. I had time so I thought I would pop them in the oven to roast for a different taste - boy was that a smart choice.
I used a recipe from
The Silver Spoon
, a massive 1,200 page cookbook originally published in Italy as
il cucchialo d'argento
in 1950. This tome was first translated into English in 2005 which is the edition I have, but has since been through another revision in 2011..... with 400 new photographs I may have to check it out.
Zucchine Arrosto/Roast Zucchini with Red Pepper
adapted from The Silver Spoon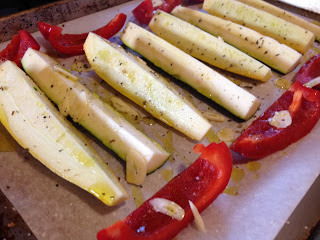 Going into the oven
Preheat oven to 425 degrees. Slice your zucchini/squash/red pepper any way you like - I tried long slices this time. Lay on parchment lined cookie sheet. Slice up three of four garlic cloves very thin and sprinkle over zucchini/squash/red pepper. Sprinkle with fresh parsley & basil if you have some (used dried if not) and season with Kosher Salt and pepper. Then drizzle over the olive oil to your liking. Place in the oven and roast to your liking.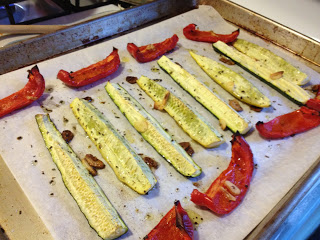 Perfect.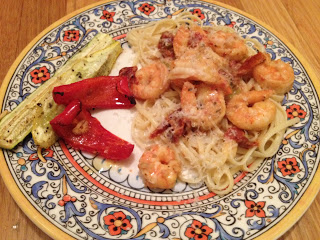 Dinner is served.
Try roasting up vegetables next time you are looking for a side dish- a splash of olive oil, slivers of garlic and S&P are all you need to bring out a new taste in your vegetables.
A little late today again due to school but it was for a good cause - last day of one of my classes!
Please visit Debbie at her
Tuesday at the Table
feature to see what her husband has been working on...it's so cool!

Ciao!
Susan